It's time to don the spandex, lace up the boots and lay the smackdown in WWE 2K19. 2K has been doing this a few years now, so this game has had a good amount of tweaks, but is it the champ, or the curtain jerker? Let's have a look in this full WWE 2K19 review.
With the game out now on PlayStation 4, PC and Xbox One (which my review is based on), and taking a few updates along the way. I'm pleased to say the game takes some positive steps forward this time.
But, you could argue a lot like the shows at present, where WWE 2K19 lacks is in good storytelling. Saying that though, it's a WWE game with a lot of content and a lot to enjoy.
How does WWE 2K19 play?
WWE games have had mostly unchanged controls, some minor tweaks have been made here. Like most annual games, you get the odd addition and to new skills with each iteration.
While WWE 2K19 is no exception to this trend, this time around there are a few areas where the game makes a step forward. Matches are wrestled at a nice pace and can support 8 wrestlers at one. Plus there is a huge lineup of wrestlers to choose from this time.
Each has their own perks and traits, ranging from near-superhuman resilience to… teleporting?
The game has some balance issues.
Outta Nowhere!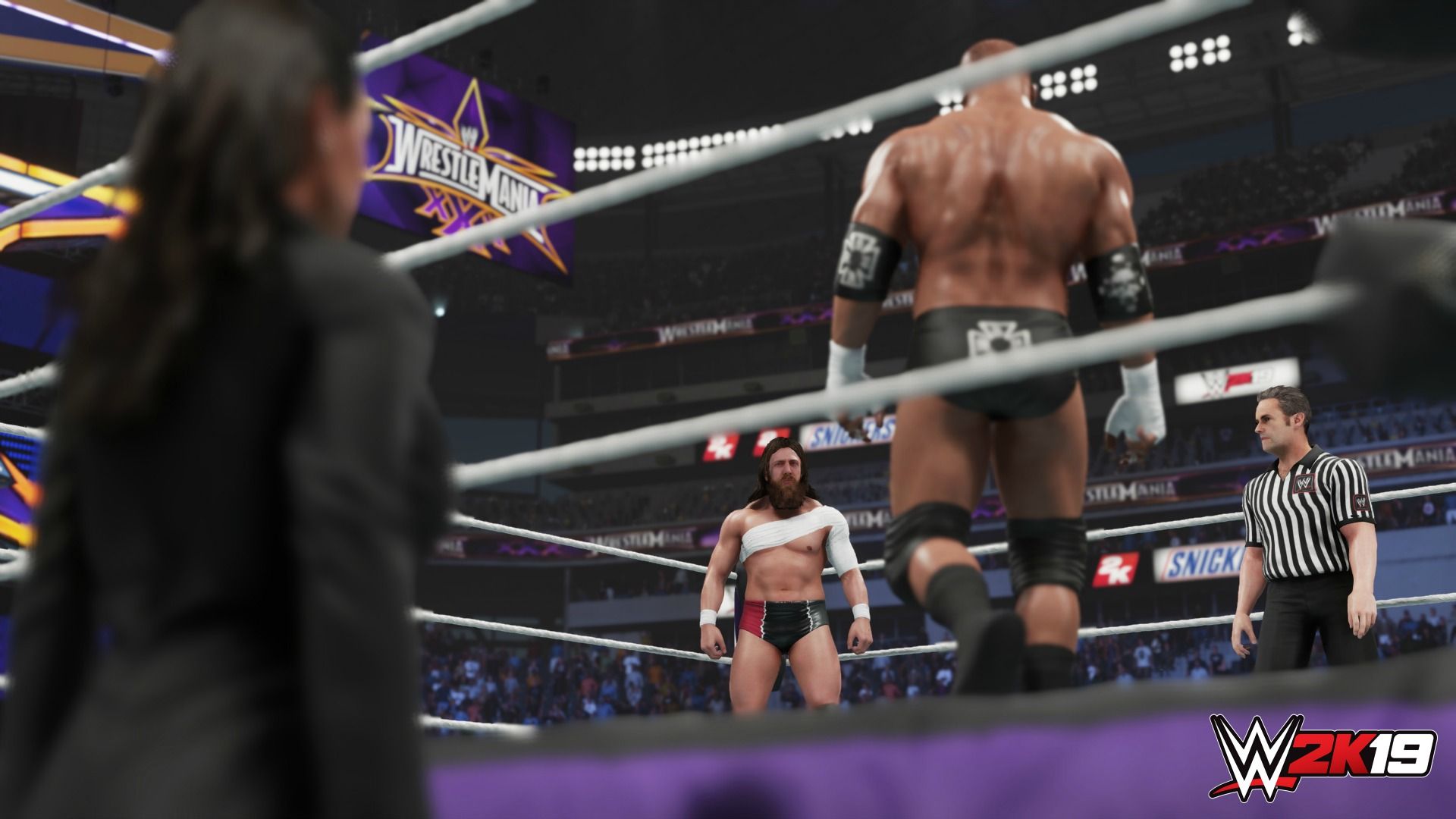 As you play, you will unlock stats through progression, and with the way the game limits reversals. This can mean you are doing just 2 reversal before you run out entirely.
Additionally, some wrestlers get a 'come back' which allows them to turn the tide on a match. Not a new feature to the series, however in this iteration, they have added new perks.
These range from an extra 'instant recovery' and extra guaranteed pin/submission escape, and even a 'teleport'. This is done by the lights in the venue going out and coming back on with the wrestler behind his opponent.
It's fun and true to the source material, but in theory, you could have a come-back, extra instant recovery and extra finisher. Which does, and has in my experience made the balance a difficult task.
That being said, there is a lot of fun to be had in the gameplay of WWE 2K19. Even if at times it doesn't feel entirely fair.
Presentation and Graphics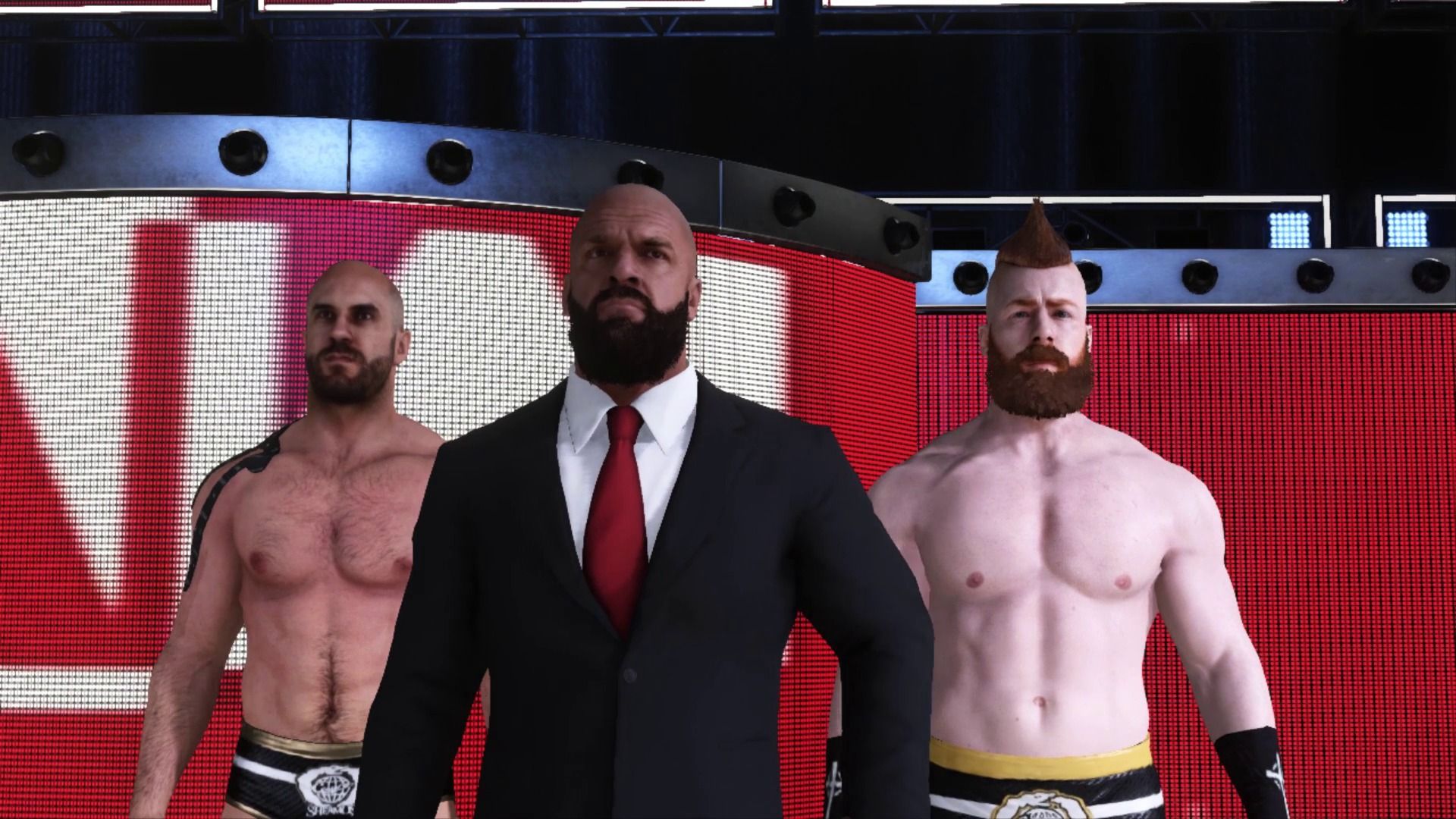 The game itself is gorgeous in terms of creating those characters we know and love/hate from RAW and SmackDown. The detail on the areas and the animations are as good as I've seen in the series.
However, I do have a gripe with the presentation.
Especially in the create a wrestler mode. Now, 2K have deployed a clean white background white black text and red and grey flashes for menus. This works for the most part, however, custom wrestler parts have a black background in their thumbnails.
This makes hair and other darker items difficult to identify from the thumbnails. But the match presentation and menus are as easy to navigate and as visually pleasing as always.
Once again I am not keen on the soundtrack in WWE 2K19 this year. Which is a constant disappointment for me in WWE in recent memory but this will come down to your musical tastes.
Main Features, Showcase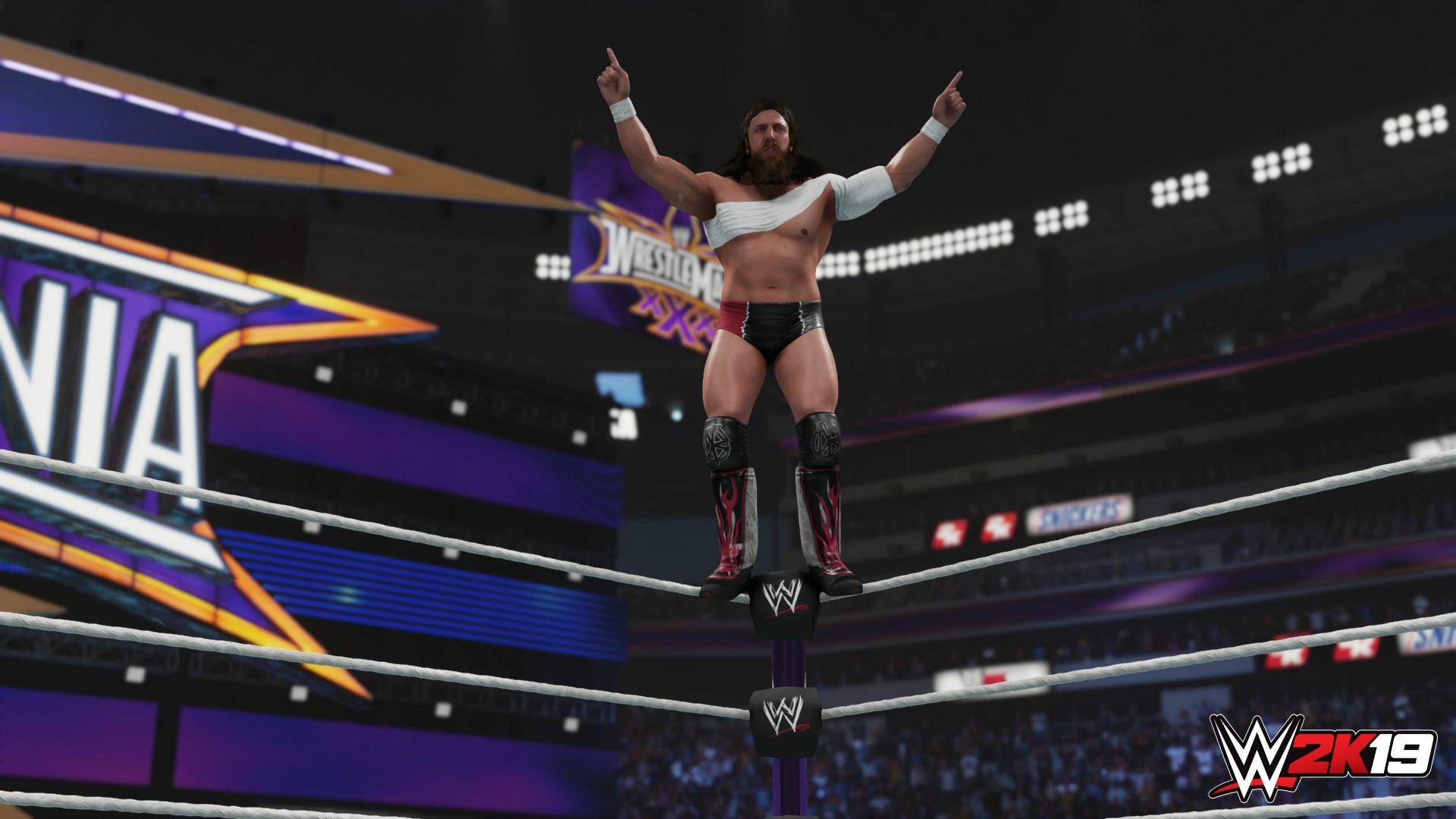 There is a lot to do in WWE 2K19 so I'm going to break it all down. The showcase mode features just one story at the time of writing, telling about Daniel Bryan's WWE's career, retirement and subsequent return.
It is nice to see stock footage and the main man talking to the camera, about his career. Sometimes very openly, and to replay classic matches is nice.
However, mandatory wins and moments plague the immersion and is a recurring problem in this and previous WWE modes.
MyPlayer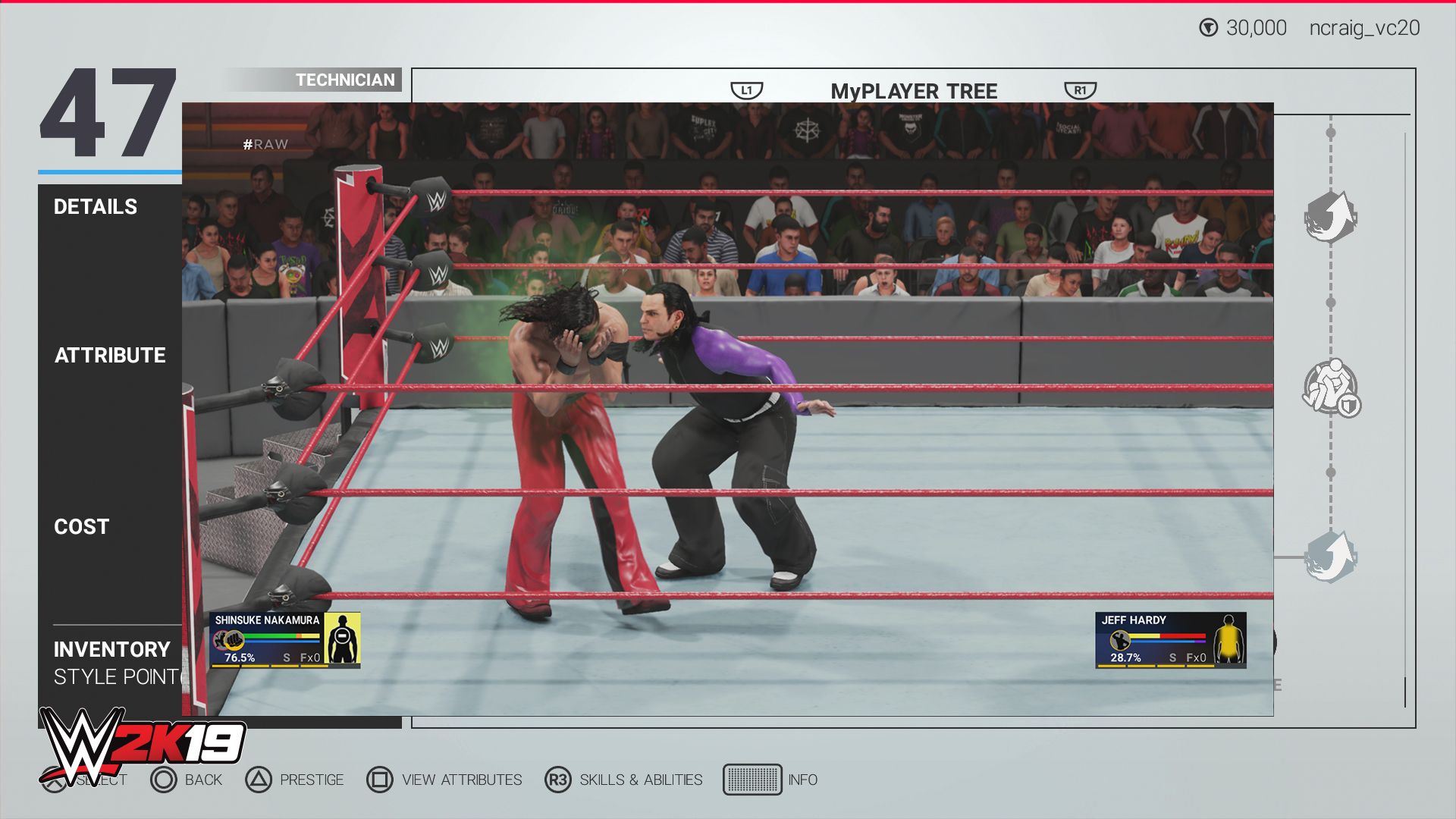 MyPlayer is one of the core modes in WWE 2K 19. Therefore has the most associated content. It has a story mode and then shares other modes with the main menu, but adjusted specifically for the custom wrestler you will be using.
You can create a custom wrestler, with a limited pool of moves and clothing, which you unlock in my player separately to the main game's unlockables.
This is done through loot packs, these aren't bought through real currency. What's more, playing in any mode anywhere in the game can fund these, so don't fret about that!
Poor Story
WWE games have for some time tried to capture good storytelling, but this game fails miserably at this. The elements are there sure, but those elements just don't work.
There are random unfinished matches. The plot is needlessly convoluted with obvious twists, the voice acting is fine, but the dialogue is so bad it neutralises the likeableness of the characters.
There are some nice additions to this year's title, the fake podcasts, and choice trees allow for replay value and immersion if you can stick with the awful pacing.
That and that one kind of story derailer, mandatory stuff! So there is a mandatory loss, where you will get absolutely destroyed. Then there will be the mandatory wins where if you lose you cannot progress.
All this balanced with the low stats your wrestler will have you frustrated at times.
Play, Universe & 2K Towers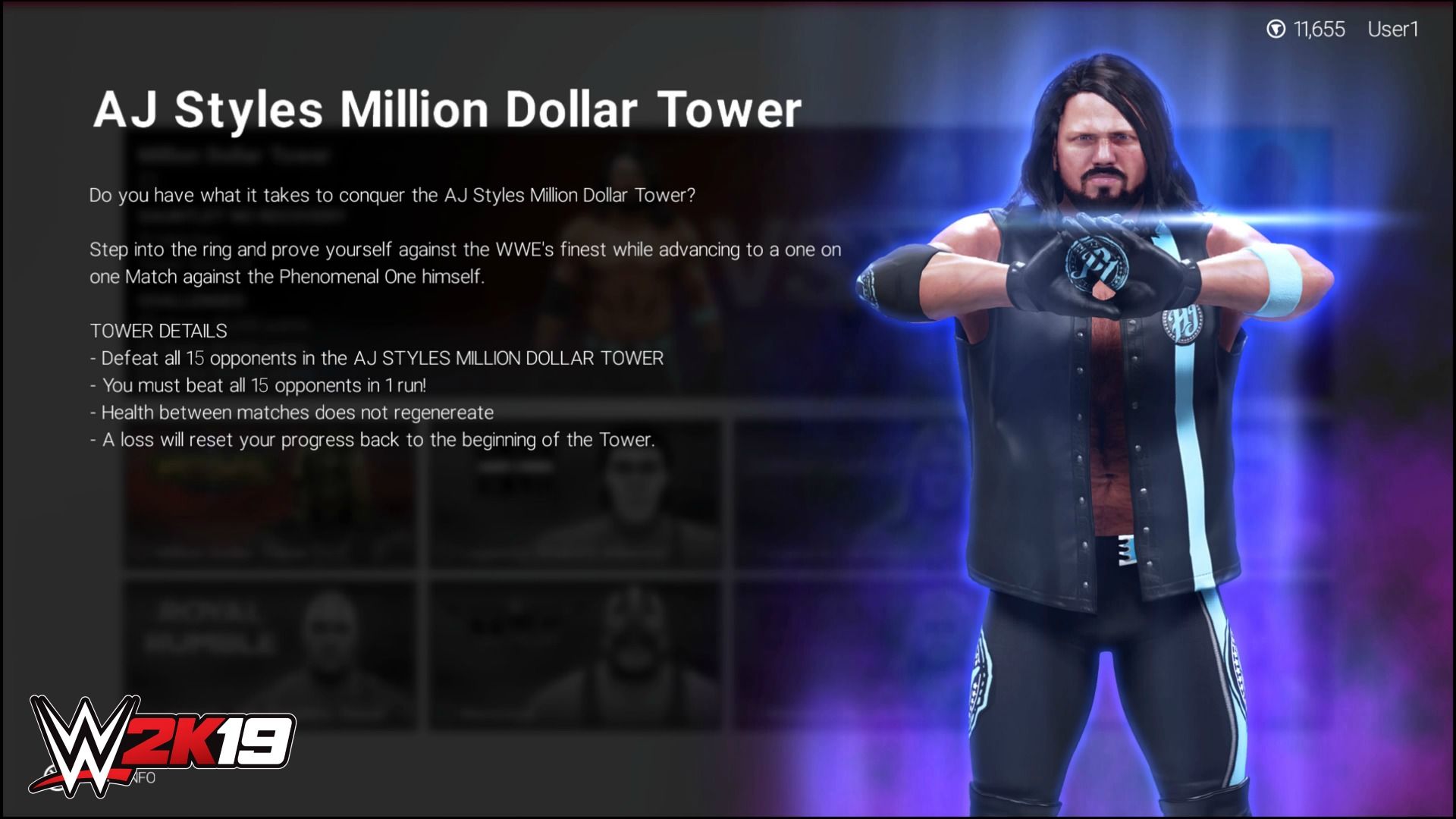 Play mode is your standard free play, anyone against anyone, in any match type, and tournaments to boot. It allows you to freely try out wrestlers and moves, it also helps you amass points that can be used for unlockables, both in the main menus or in MyPlayer.
The best addition to Play mode, and any point where you can choose a wrestler is the new option for Cruiserweights. This makes putting together a cruiserweight title match much easier.
Universe Mode
Universe mode allows you to customise every aspect of your wrestling universe, supporting custom shows, 'pay per view' events, wrestlers, titles, teams and rivalries. It has had a few cosmetic changes again including a nice, more simplified menu structure.
You can do several things for the first time. Firstly you can cash in a Money in the Bank contract at the beginning of a show, allowing you to change the main event to that shows title. Or, if the champion is in a title match, you can cash in and make it a triple threat for the title. You can even wait until it's over and jump in as they are exhausted!
The other thing they have added, that will please many wrestling manager types, you can go into a match card and pick a winner. This means that if you want heath slater to be a world champion, you could do that.
2K Towers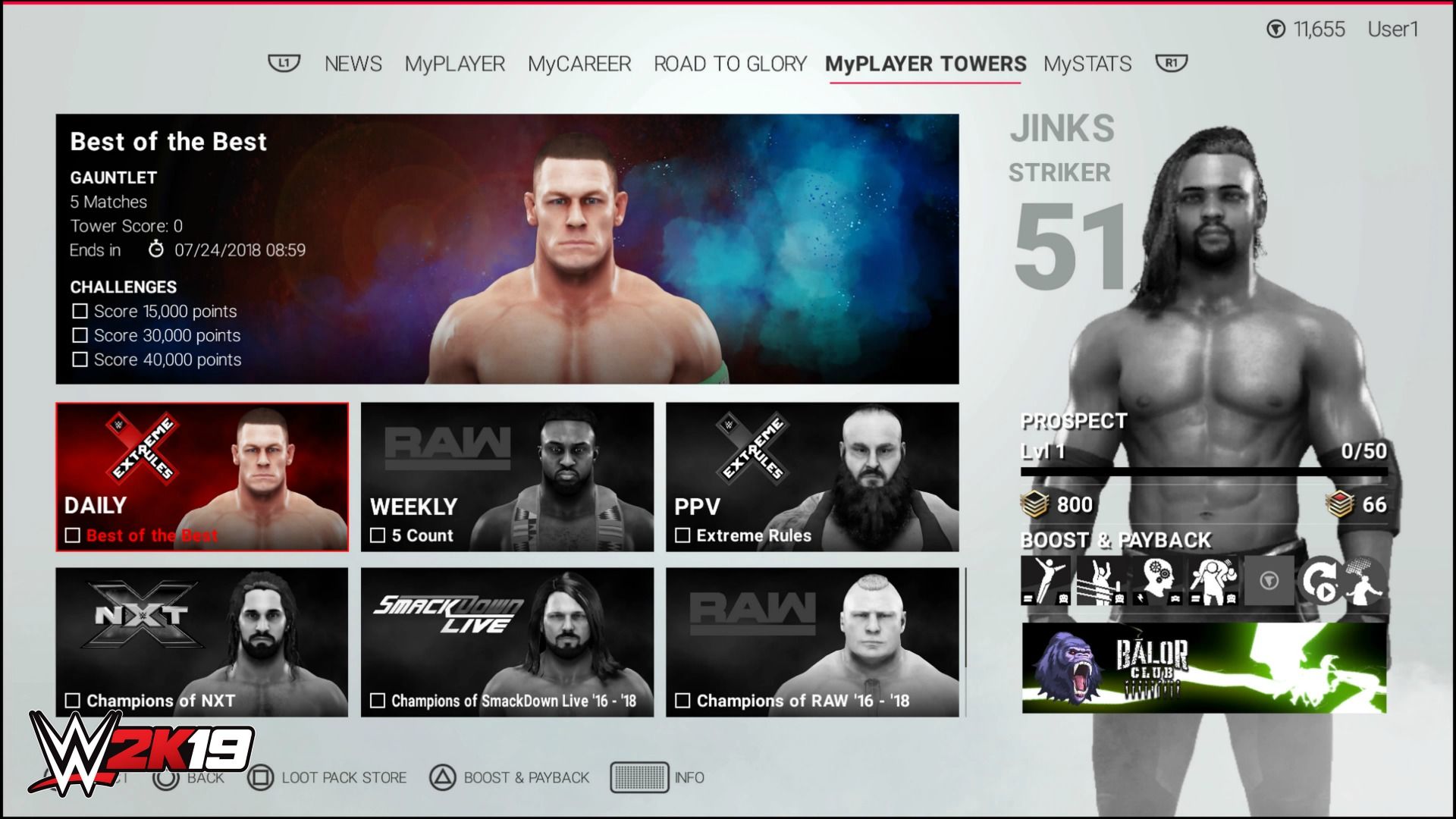 2K towers is a new feature, and maybe the best addition to WWE 2K19. This is a gauntlet style, win to progress mode – where the player wins a series of matches to earn in-game currency points.
These challenges are tough, and fun, and also this mode is also accessible to your myplayer, and as such, means you have some way to unlock the MyPlayer skills and loot packs.
Creations, Community & DLC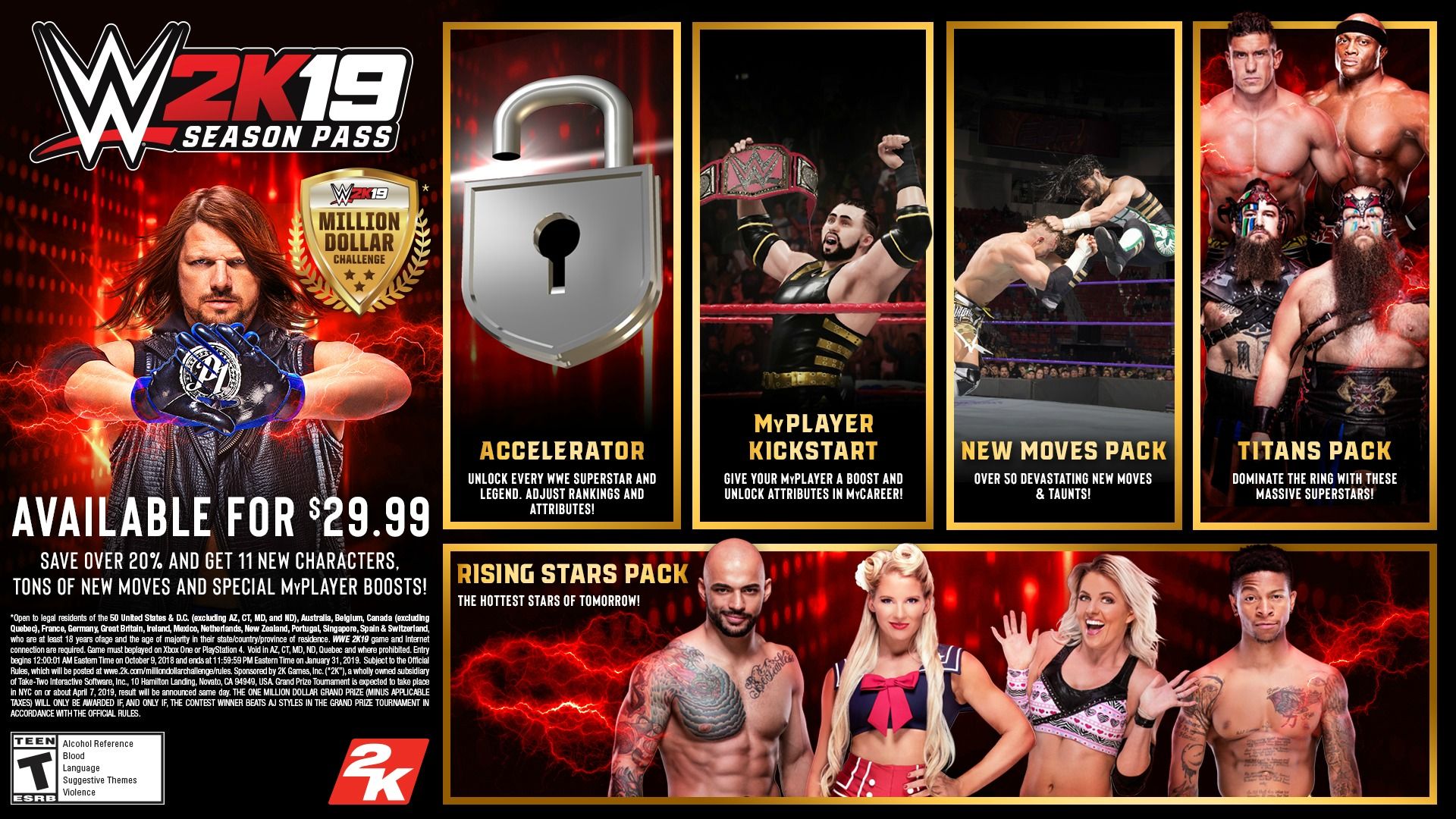 There is so much to create, move sets, wrestlers, titles, entrances, Money in the Bank briefcases. All of which can be allocated to titles like the US title, women's title, hardcore title etc, and be used in Universe mode!
Community creations return allowing you to download other peoples wrestlers, titles, shows etc. This is always good as I want to add non-WWE wrestlers to my roster, but I am far too lazy to do this the old-fashioned way.
At the time of writing, just the pre-order bonus DLC is out, this means extra wrestlers, access to the accelerator and MyPlayer boost.
The Accelerator is both good and bad, because the game's balance for unlockables is broken to hell. This is most present in MyPlayer, even with the boosts you get in pre-order, and this maybe is one of the few positives that also highlights the base games negatives.
Should You Play WWE 2K19?
There is a tonne of things to do in WWE 2K19, a lot of them very fun. Ignoring the minor glitches, the game is great to play and better than the previous series entries.
However, the story modes are both frustrating, especially in the case of MyPlayer as you have limited reversals. One match then expects you to win a multi-wrestler battle royal with this limitation. A frustrating time indeed.
But like I say, there is a lot to do and lots of DLC coming. As unfair as this can be at times, it makes up for it when it gets things right. Keep on MGL for more as I update you on the DLC packs!
Gamers who will suit this game…
If you have played and enjoyed any of the 2K wrestling games, you will enjoy this. If you are looking for a well-told story, you won't find one here.
| The Good | The Bad | The Bugs |
| --- | --- | --- |
| Good gameplay | Create a wrestler menu colours | Ropes catch on wrestlers |
| Lots to do | Mandatory wins | Minor audio desync |
| Customisation | 'Do this here' moments | |
What do you think
Leave a rating
You've read our review, and maybe a few others on this title. Are you interested in getting WWE 2K19? Have you already played it?
Let us know with a rating below if you have tried this and if you would recommend the game  "Yes" or "No" in the comments because other gamers value what YOU say as-much-as what we have to say.
Enjoyed our review? We hope it helps, please do share this on social media using the buttons below. That way more gamers can find out about this game.
About This WWE 2K19 Review
Game Reviewed: WWE 2K18 digital edition, provided by the publisher.
Review Format: Xbox One
PEGI Rating: 16