I have plenty of memories playing fun Basketball games in the past. There are plenty out there, especially with EA releasing NBA Live with regular frequency. As a more arcade fan I always liked the NBA Street games the best. But here I am now with my NBA Live 18 review to look at a more traditional game that mixes both The Street and The League. Sounds interesting…
There are some very mediocre entries into this series with many disappointing compared to alternatives out there. And while NBA Live it's perfect, it's certainly a really positive step forward for the game series this year.
While it's not anywhere near the finished product from EA in this series yet, I think there is enough to consider playing this one for NBA fans even if you'd have to accept some flaws. Check out the details below, and I want to know what you think too…
Review Side Quest
What is the best Basketball game you've ever played?
Get in the Disqus or Facebook Comments at the end of the review. And please share this so other gamers can get involved, and enjoy the review.
How does it play?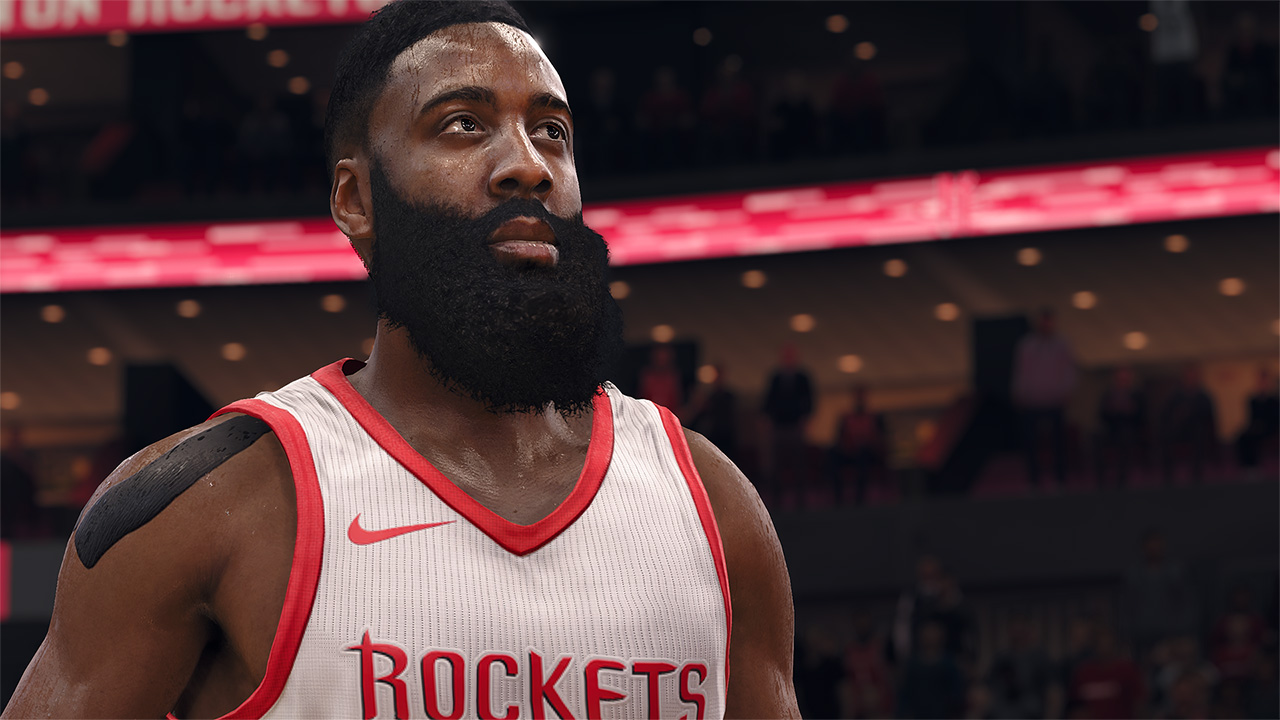 I'm all for simple complexity in sports games. FIFA manages this with some really easy to pick up controls but added depth if you take the time to learn advanced techniques.
NBA Live is moving more on that curve with a nice to pick up control system, although it's introduced in a rather "learn by doing" way. It's not a coached introduction, simply a few tips on screen. But play a few games outside of the main modes and within an hour most things are straightforward. Defending was harder than attacking for me personally, but that's this same in most sports (gaming and real life!).
The flow of the game lends to the attacking nature of basketball without stopping too much. The speed and attacking focus is there although it's incredibly hard to get the ball off some players, you really have to time your blocks, steals and blocks well.
Dribbling and shooting are easy to start with, hard to master as you will find you need to time adjust to the shit meter which seams overly sensitive at times. But once you pick it up and get the flow of the game going you will be dunking and laying up at the flick of a few buttons.
What let's the gameplay down massively is the lack of variety in movement. There are some animation you just play out and get stuck in, a real throw back to last gen in many ways. You seem to play out a set movement rather than responding to the other players or ball at times.
While not perfect, it's genuinely enjoyable to play. EA have done a good job getting the series on the right track generally. It's a really nice step in a positive direction and one of a few in the game overall.
Presentation and Graphics
Using the FrostBite Engine is proving to deliver some very nice touches graphically on many games in EA's library. This time we have some really nice character modelling with impressive face capture too. The favourite of uploading your own face is also back for The One mode, by far the games best feature I talk about later.
NBA players are captured to really nice detail, it's a shame in play the movement is a bit pre-set in the animations capture. Players can move fluidly but then all of a sudden they are in generic jump or swing arm steal which looks a little poor in comparison to the game's overall presentation.
The commentary is also overly set to low options. Where games live FIFA have excellent commentary you'd think they would share the technology and techniques to make it more interesting. Sadly, though, it all gets a little stagnant.
But there are some really nice interactions and live action moments, particularly in The One that are really well done. Overall, NBA Live 18 is a good standard here.
Main Features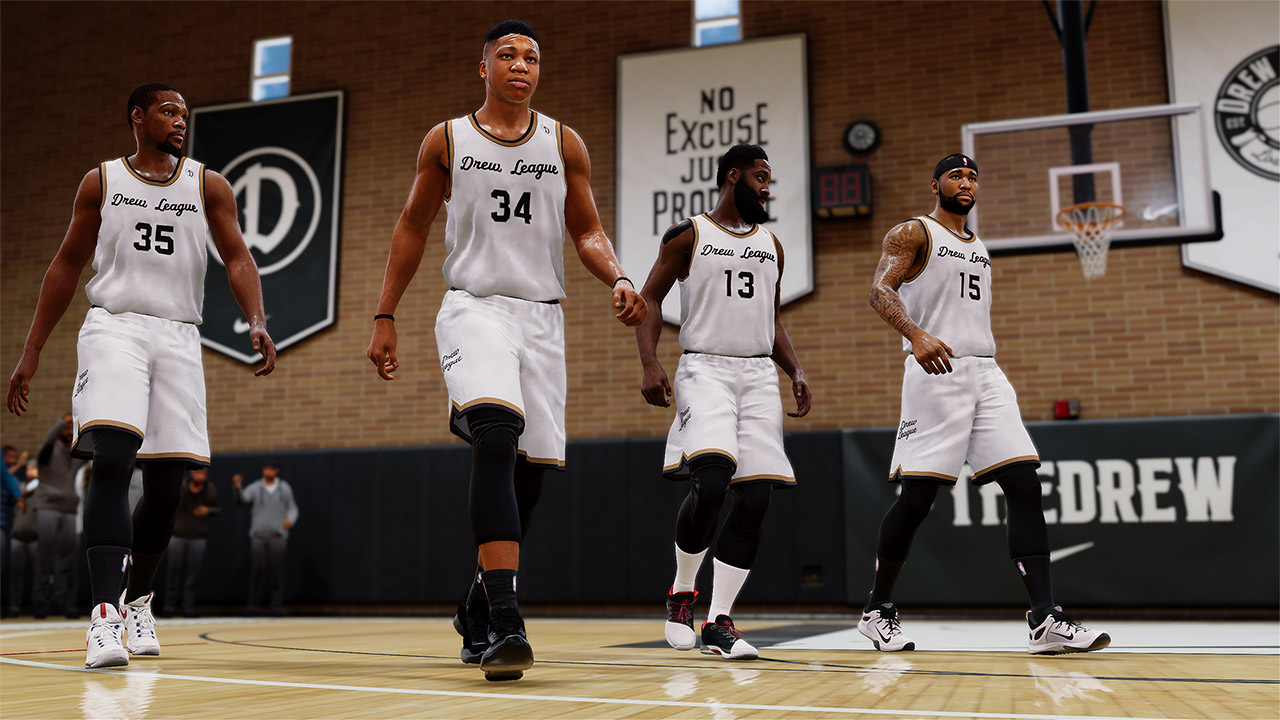 There are a number of options here, usual play modes to expect in a EA Sports game such as Ultimate team, franchise and single match play online or against AI. But the game mode to really make this really stand out is The One.
Here you are a self-created basketball player who is injured very young and needs to find their way back to the NBA. To do this you get into some Street basketball and earn your way up by playing matches. Not only is it really well delivered, with some really nicely thought out upgrades and skills, it's great to play too. Being a single player in other games can be a little tedious but here it works nicely.
You rise up as you progress but can also come up against some challenges. Overall it's excellent.
The other play modes are a little more traditional and predictable but you can see most of the work here has gone into getting The One right which you can understand. The other modes are solid enough, just not as rich in terms of options and depth of experience. There is however the addition of the WNBA here so you can take on some female basketball too which is a nice step forward for the game.
It's got plenty to enjoy however and the improved gameplay makes it all much more enjoyable than ever in NBA Live.
Should I play this?
Summary of the good and the bad of the game as covered above.
The mixture of street basketball and league makes for a nice balance of play. It's a good idea and it delivers plenty to enjoy. The One is a great mode to play and is 100% what the game needs to develop further.
Outside if that your tradition modes are there, they are just a little stale by comparison and need to come to the standards set by the work done on The One. With accessible gameplay and some nice moves easy to deliver it's quite fun and entertaining of picked up for the right price. I can see many gamers really enjoying this, even though it's not quite perfect, it's a big step in the right direction.
Gamers who should…
NBA fans that fancy some RPG mixed with their sport will really enjoy this game. There are some rough edges but you'll really enjoy The One. With the more simple gameplay it's easy to pick up to those less familiar with basketball games.
Gamers who probably shouldn't…
Not the best for those wanting traditional franchise modes and league play, its reasonably standard.
| The Good | The Bad | The Bugs |
| --- | --- | --- |
| Improved gameplay | Lack of animation variety | None experienced during review |
| Nice graphics and live action | Poor commentary | |
| The One is excellent | Standard modes less developed | |
| Genuinely fun to play | | |
About This NBA Live 18 Review
Game Reviewed: NBA Live 2018, The One edition provided by publisher
Review Format: Xbox One
PEGI Rating: 3