As if we didn't have enough MOBA's in the world today, Hyper Universe adds one more to that list but does it with a twist: side-scrolling. Here in my Hyper Universe review, I'll be going through just how this idea works.
Developed by CWave Inc and published by Nexon America, Hyper Universe first released back in January for PC. Now it becomes console exclusive on the Xbox, as well as being free-to-play.
I don't think I've seen a side-scrolling MOBA before so this game interested me and I was looking forward to getting my hands on it. Join me for the rest of the review to see if it, and The Ultimate Hypers pack is worth checking out.
How does Hyper Universe play?
All in all, I had a great time playing Hyper Universe. The side-scrolling aspect fits in really well and adds a more interesting take on the MOBA genre. Moving between lanes using ladders and jump-pads feels fluid and fast.
The fighting feels good and simple, but getting into big fights with a bunch of players (or AI if you choose) can be a bit annoying. As its all in a 2D side-scrolling space, attacks will end up hitting you no matter what as you can't just move out of the way of them.
I could just be revealing my lack of skill, but not having space to manoeuvre was irritating.
I did also notice that if you chose to play against an AI team, they would almost always pick the same characters, and those characters happened to be really good ones. They always picked characters like Sun Wukong, and Aisha and Tatyana.
Whenever I played against AI, not once did I see an AI pinky, or Green Pit Bull or Victoria. Some variation would have been nice, as with the AI it feels like the same game every time.
Overall though, it's a nice twist on the gene and the gameplay is generally entertaining, even if it can be harsh on you in tight spaces.
Presentation and Graphics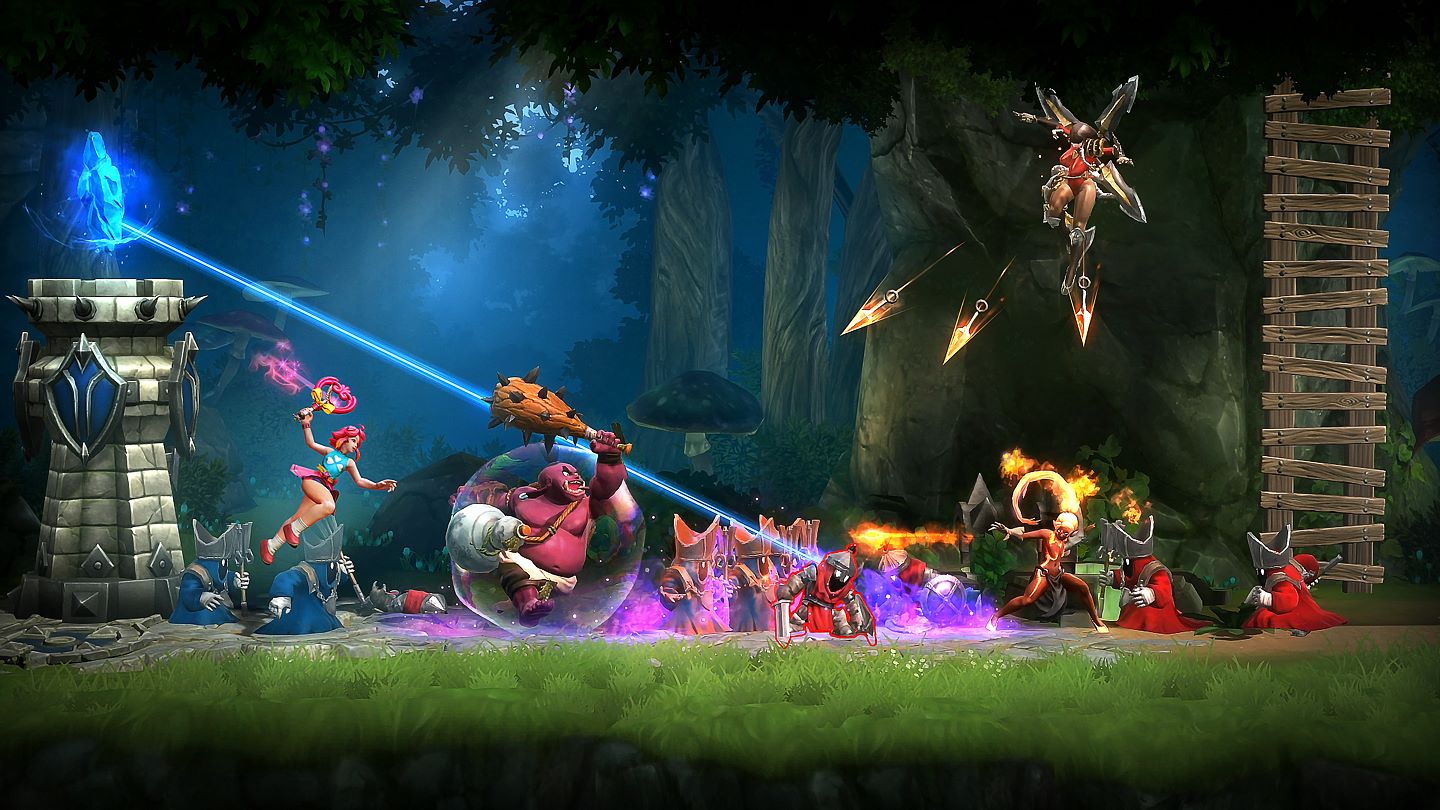 Hyper Universe's graphics are quite pleasing to the eye. It's a 2D design, but the character models are 3D against the backdrop, and they're well animated. Attacks look smooth and natural and performing the attacks feels responsive (unless you're getting the snot kicked out of you like I was).
Not once during my play sessions did I experience any sort of framerate issues or lag, which made it that much more enjoyable. No laggy instances of "I hit you and you should be dead but you killed me instead!?".
Good news for everyone!
The music in Hyper Universe is actually quite catchy. From the main menu theme to the character selection and during a game, the music is prominent but doesn't overwhelm the other sound effects and vice-versa. It's very suited to the game and adds just that little extra pizazz.
Main Features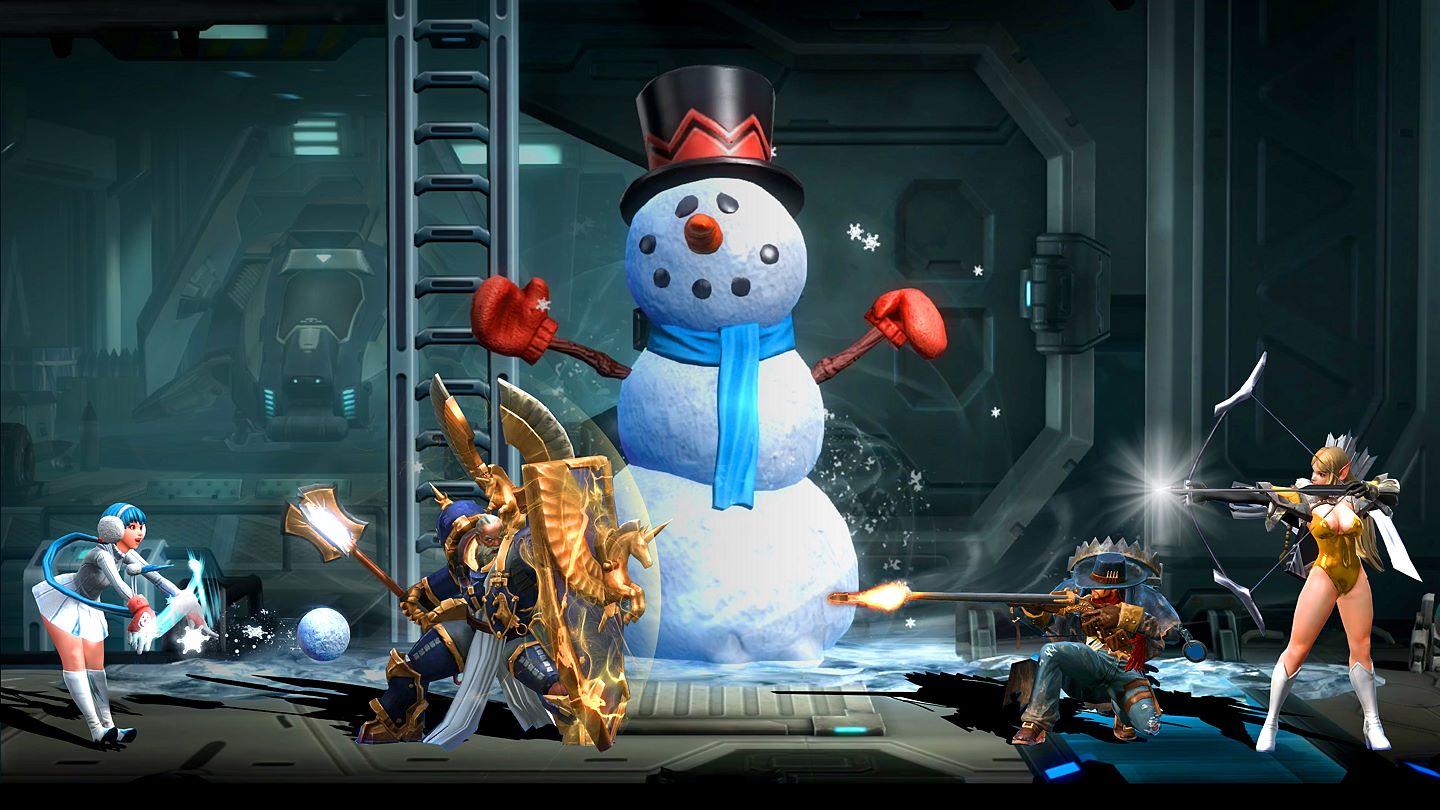 We all know what a MOBA is, and how they play. Hyper Universe takes that formula and flattens it into 2D without ruining what makes a good MOBA in the first place. With over 40 characters to choose from, and likely more on the way, playing lots of matches and testing the characters to find one you're good with is a satisfying feeling.
When you start the game for the first time you're met with a pretty well-animated cutscene of a character being called to the Hyper Universe. It's not his story though, and that's the only real 'cutscene' in the game.
There is no story, just some powerful people called from different worlds to fight in what is essentially a computer simulation. They definitely look like they're from other 'worlds' though, I swear that one guy is from Castlevania or something…
There is a Story tab on the main menu, but unfortunately as mentioned, there is no actual story. Instead, you unlock little skits by doing certain things like playing with certain characters or getting character skins.
These skits are just short humour based interactions between characters, nothing deep or resembling a plot.
Should You Play Hyper Universe?
Hyper Universe is a MOBA that attempts to do something different and adds in a side-scrolling element. This actually works and feels interesting to play. It also adds the need to strategise more as you're not in a 3D space.
You can only really move side to side unless changing lanes, in which you're going up or down. It has a bunch of different and interesting looking characters, and all of them feel pleasing to control.
Gamers who will suit this game…
Anyone who enjoys things like Paladins, DOTA, Smite…basically anyone who likes MOBAS. Anyone who likes anything free-to-play, too. You can't go wrong with free!
Round-up
| The Good | The Bad | The Bugs |
| --- | --- | --- |
| Fun Gameplay | The AI is poor | |
| Catchy Music | | |
| Cool Characters | | |
What do you think?
Leave a rating
You've read our review, and maybe a few others on this title. Are you interested in getting Hyper Universe? Have you already played it?
Let us know with a rating below if you have tried this and if you would recommend the game  "Yes" or "No" in the comments because other gamers value what YOU say as-much-as what we have to say.
Enjoyed our review? We hope it helps, please do share this on social media using the buttons below. That way more gamers can find out about this game.
About This Hyper Universe Review
Game Reviewed: Hyper Universe digital edition, provided by the publisher.
Review Format: Xbox One
PEGI Rating: 16