Welcome to the eerie and mysterious world of Call of Cthulhu. This is the review of the Lovecraftian horror game developed by Cyanide Studio and published by Focus Home Interactive. It also features on our Best Halloween Horror Games, given its timely release!
Available now on PlayStation 4 (the version I played), PC and Xbox One, you will explore the long-troubled island of Darkwater as private investigator Edward Pierce.
Call of Cthulhu is a Lovecraftian-inspired horror game with RPG elements and exploration. It tells the story through a combination of dialogue and evidence discovered in the game world.
You walk and occasionally run through the environments looking for clues to piece together just what on Earth is happening on Darkwater Island. With that said let's delve deeper into the game and see what lies beneath the surface.
How does Call of Cthulhu play?
The gameplay occurs from the first person perspective as you navigate Detective Pierce through the game world. As previously mentioned you will mostly be at a walking pace as you inspect every nook and cranny.
You will need to look high and low to find every clue each area has to offer.
Although the pace is reasonably slow, the immersive atmosphere makes you want to spend time searching around.
From the uncanny green lanterns scattered about to the general feeling of dampness, the developers have done a fine job of building an authentic experience consistent with the mythos of the Cthulhu universe.
Controls and Mechanics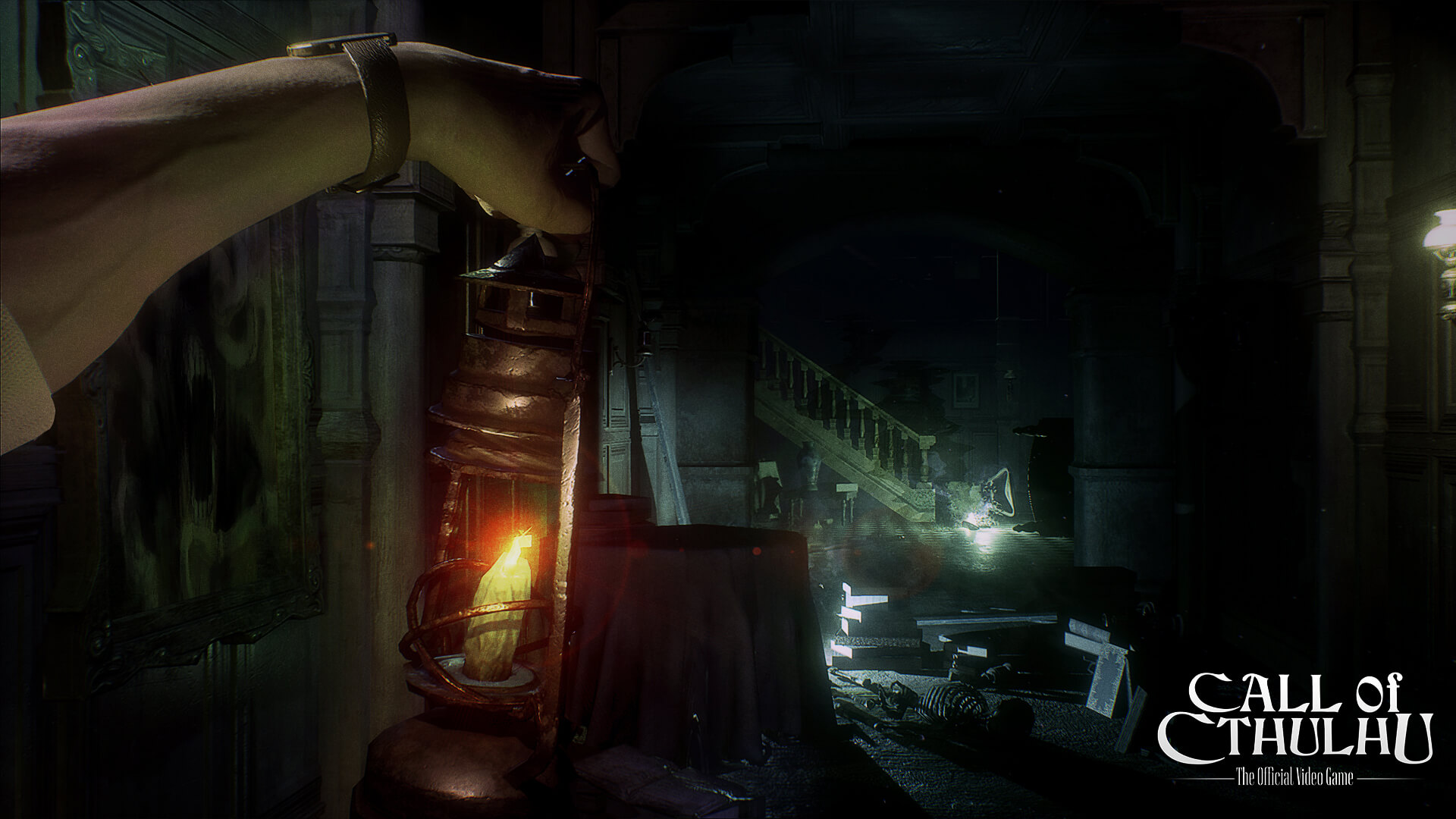 I found the controls to be simple and the movement to be smooth. There were no QTE's, although there were a couple of scripted 'chase' sequences.
I thought this was a good point as it meant suspense had to be driven from the environment and the narrative rather than a gameplay mechanic.
Another game mechanic, used to develop the story, is 'Reconstruction Scenes'. These are scenes where, you guessed it, Pierce uses his detective's intuition to reconstruct what happened before he arrived at a scene.
You walk around the room interacting when prompted and Pierce will describe what occurred. A simple but effective way to fill in some key plot points.
Skills and Progression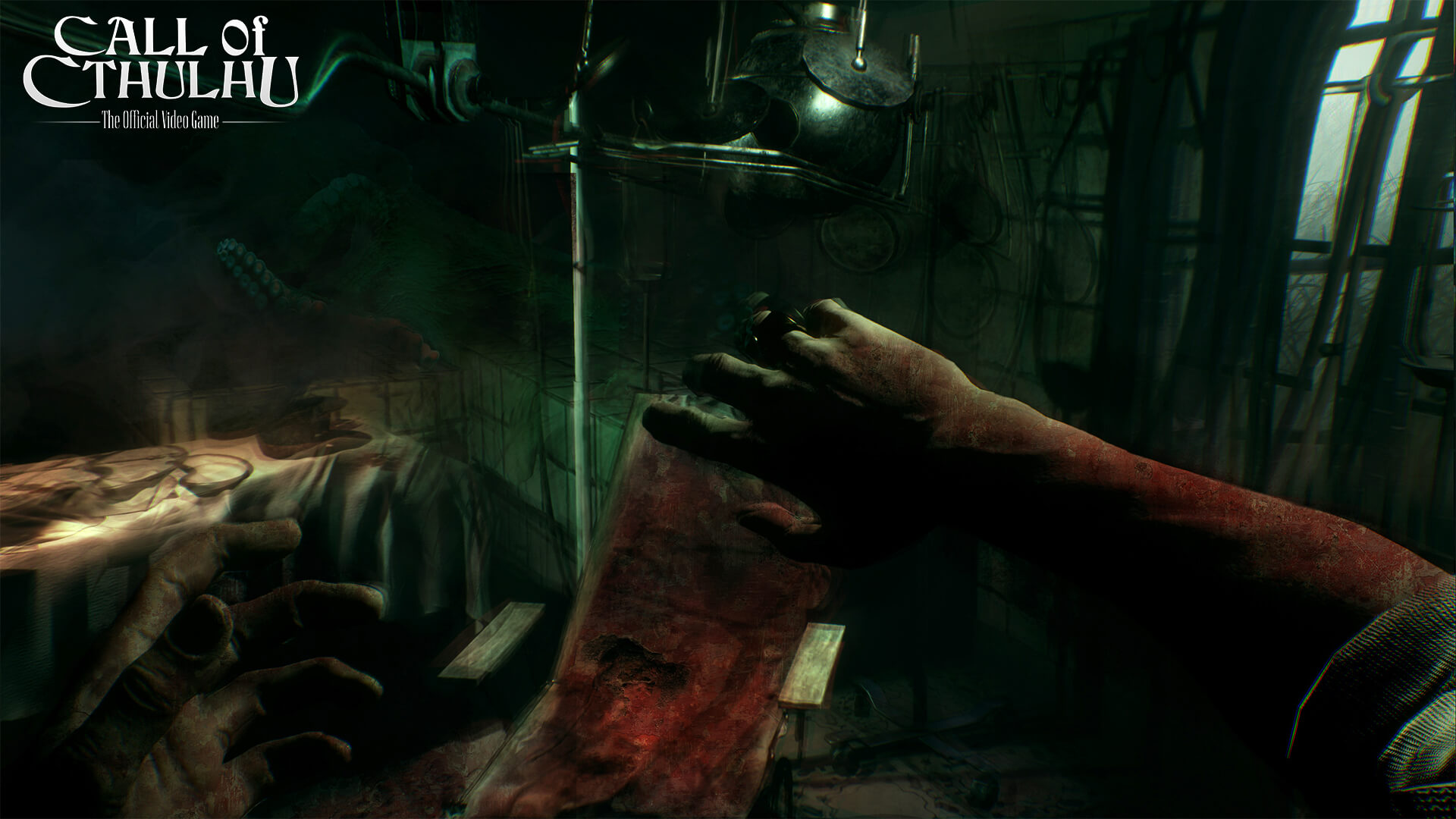 The RPG element comes into play with Pierce's skills. These vary from skills to increase dialogue options, improve investigative skills to discover more about an area or object. Pass strength checks or simply discover more in the scene.
These are increased with character point which you gain as the game progresses, with the exception of two, Medicine and Occultism. These two skills can only be improved by finding relevant books and artefacts, encouraging you to fully explore to max out your abilities.
As well as skills, Pierce also has a Sanity meter. This is affected by various encounters throughout the game. These could be reading certain books, or examining certain objects. You are also faced with choices which affect Pierce's destiny.
These come in the form of dialogue options or choosing to interact or read objects and books you come across.
The sanity rating will affect how Pierce experiences the world around him. The closer to insanity he reaches, the more he will perceive and interact with the supernatural.
Rinse and Repeat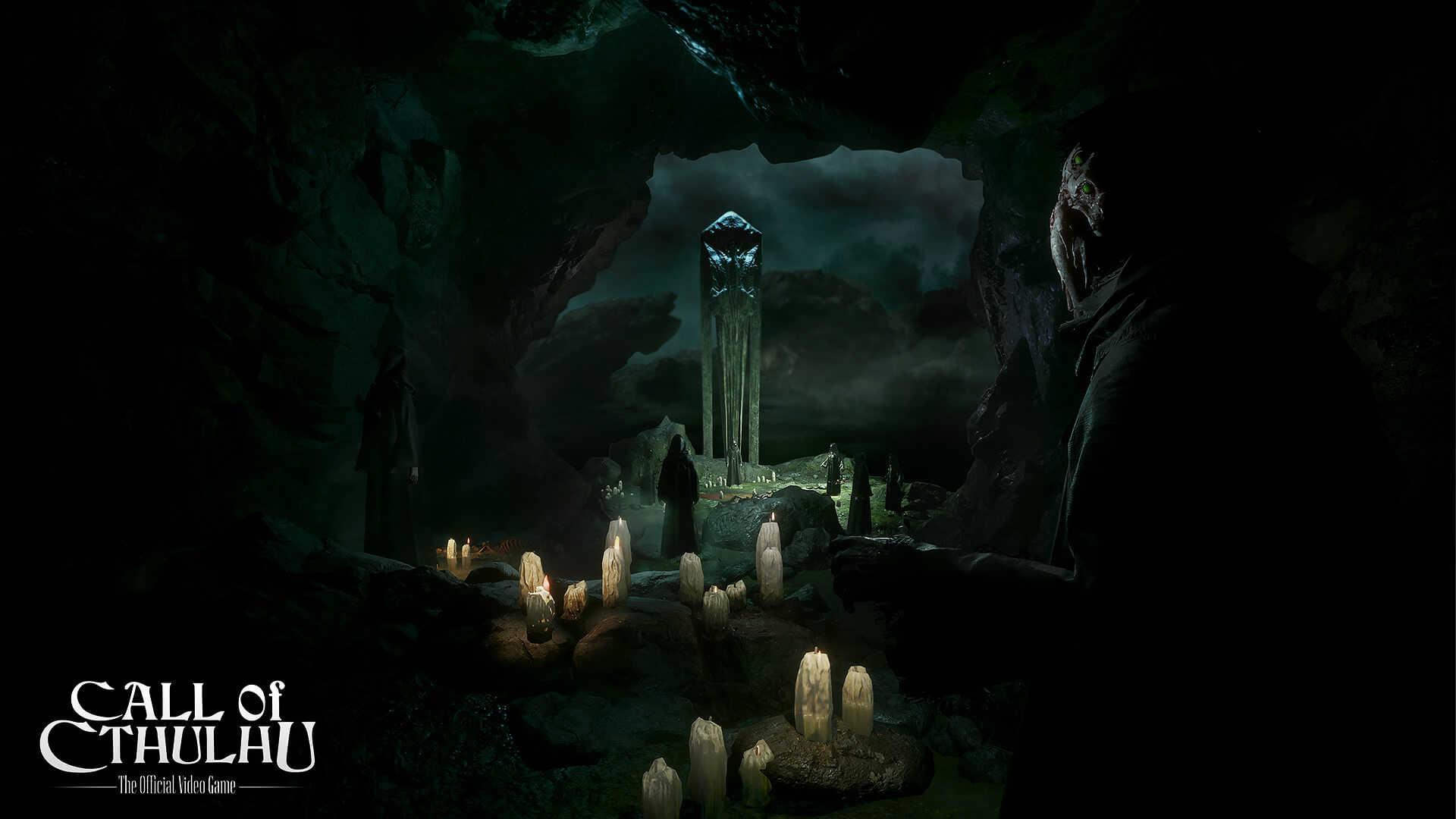 The gameplay is honestly very rinse-and-repeat. Explore an area, gather clues, maybe solve a simple puzzle that's thrown in. But where the game excels, at least in my opinion, is in keeping the narrative moving.
Call of Cthulhu doesn't try and drag things out for the sake of it. It likes to keep the story rolling at a pace that makes you want to keep going around the next corner, find the next clue or finish the next chapter.
The mystery and intrigue from the start to the end is where the game will ensnare you and leave you wanting the answer to the sinister question that is Darkwater Island.
Presentation and Graphics
The overall presentation and graphical quality of Call of Cthulhu is solid, but by today's standards, it is a little grainy looking. Although in a way it gets away with it due to the setting and overall theme of the game.
If you're looking for super clean, polished and sharp graphics and animations, however, you've come to the wrong place.
There are occasions when engaging in dialogue where the characters repeat animations throughout the conversations. Often gesticulating in ways that don't fit the voice acting.
The animations themselves can also look somewhat awkward at times too, partly pulling you out of what is otherwise an immersive moment.
Having said that, the game world is very detailed and they've done a great job of building an environment that is more than believable and really makes you feel like you're in the world of Cthulhu.
From the dankness of the docks and caves to the dread of the asylum, the atmosphere's that are present throughout go a long way in making this game what it is.
As for user interface, there isn't one to speak of during normal gameplay really, and there isn't a need for one either. There's no health bar or a compass in this game as combat works on a pass/fail basis and the areas you explore are linear and closed.
Main Features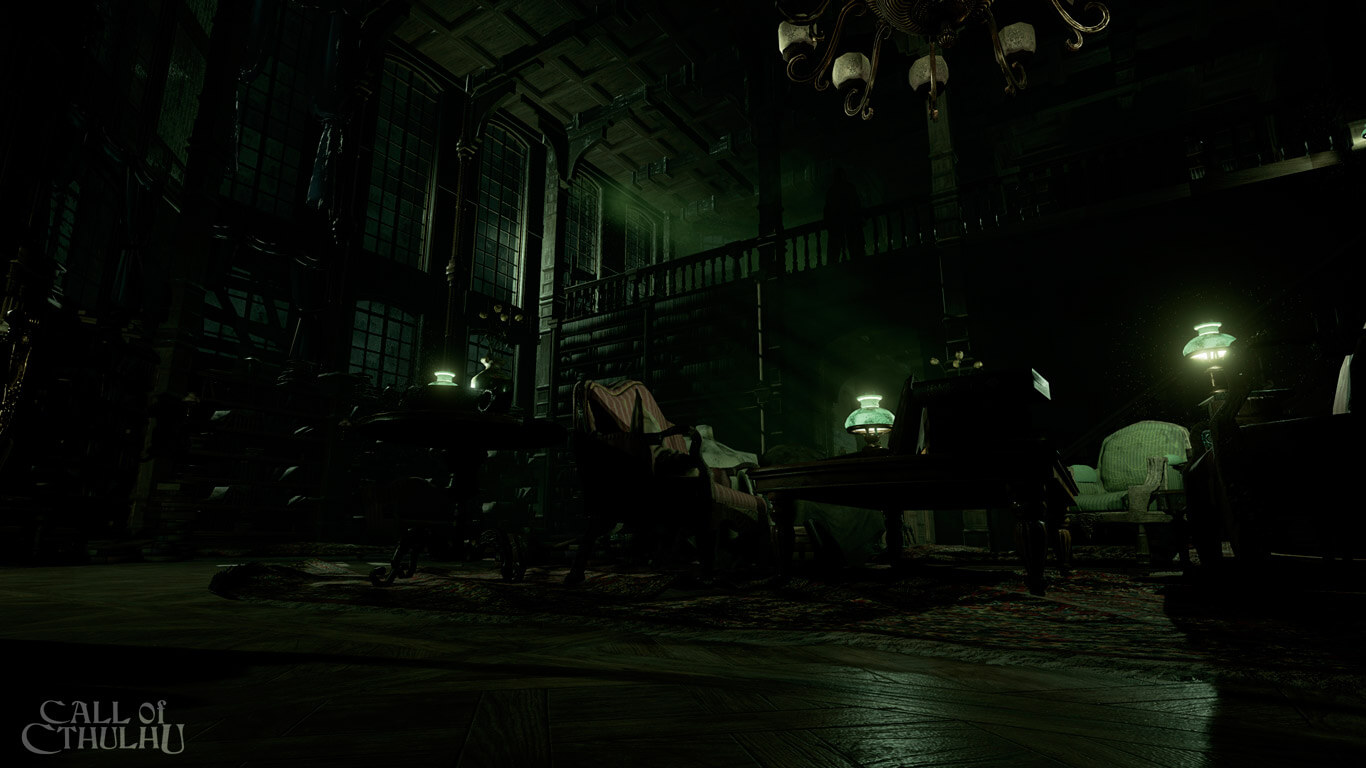 The main part of the game revolves around navigating Pierce through the levels. You will investigate them for evidence and talk to the people you meet. This is to try and find out more about what's been happening on the island prior to your arrival.
The ultimate goal is to get to the root of the mystery surrounding the apparent tragic death of the Hawkins family. Along the way, you will uncover the truth about what really happened and the motives of each character.
With a few twists thrown in for good measure, this is primarily a story-driven game through a Lovecraftian world of deceit, horror, conspiracy and the supernatural.
You'll want a couple of run-throughs to catch everything and try different character builds. You might even pick up on little hints that you missed the first time.
The narrative gathers pace as you progress and gradually introduces the supernatural elements.
This makes it all the more believable as you develop your understanding and knowledge of the occult along with Pierce. Maybe you'll even be questioning your own sanity by the end.
Should You Play Call of Cthulhu?
All in all Call of Cthulhu is a fun horror game based in a unique world. The gameplay is straightforward and admittedly repetitive. However, the atmosphere, story and setting make up for this.
The result is an interesting foray into the world of Cthulhu which will certainly hold your attention.
Call of Cthulhu provides hours of suspenseful narrative-driven gaming.
Are there areas for improvement? For sure, some of the animations can be a bit janky at times and there are a few cliché jump-scares. But hey, it's a horror game, you've got to expect a couple, right?
If you want an entertaining horror game that isn't too scary, you won't go wrong with giving this a shot.
Gamers who will suit this game…
Any fans of easygoing horror/exploration games will certainly get some fun from Call of Cthulhu. If you've played games such as Until Dawn, whilst not as high budget or as polished, I'm confident in saying you'll definitely enjoy this.
One certainty is that if you're a fan of Lovecraft then this is aimed squarely at you, so give it a go. If you've never delved into the world of Cthulhu or other Lovecraft stories, like myself, then I think this is a great taster and has certainly left me wanting more.
| The Good | The Bad | The Bugs |
| --- | --- | --- |
| Superb atmosphere | Some odd animations | None experienced |
| Solid storytelling | A few clichés | |
| Believable characters | | |
What do you think?
Leave a rating
You've read our review, and maybe a few others on this title. Are you interested in getting Call of Cthulhu? Have you already played it?
Let us know with a rating below if you have tried this and if you would recommend the game  "Yes" or "No" in the comments because other gamers value what YOU say as-much-as what we have to say.
Enjoyed our review? We hope it helps, please do share this on social media using the buttons below. That way more gamers can find out how special this game is.
About This Call of Cthulhu Review
Game Reviewed: Call of Cthulhu standard edition, provided by the publisher.
Review Format: PS4
PEGI Rating: 18