When you get a game, people often judge it against what its contemporaries of the same genre are doing. Weigh up what it does well, what it does badly and how it therefore stacks against the competition. So here we have one that is rather different since there isn't too much to compare it too right now. My Aaero review is about a game that is somewhat of a classic genre not seen too much in the present day.
But one that this two man development team has done a fantastic job with.
Check out my thoughts on this really cool indie game below. It's one I recommend you all give a chance to, even with a few elements that could be improved on. Any of you thinking of getting this or like it as I do, or you like my various chocolate puns I use below, drop me a Disqus Comment at the end of the article.
Like I'm on Rails
Meet Aaero a game that is part rail shooter, part rhythm game. Now initially I know that rail shooters get a bad rep, but let's be fair there are a few diamonds in the rough for that genre… And then there is crimson dragon which is a bit rubbish, but when executed correctly be very entertaining like the much loved Rez.
And then there is the rhythm game with a lot of games have quick time events. But the rhythm game is the hand eye coordination love child of the music industry and everyone's need to be a 'star'.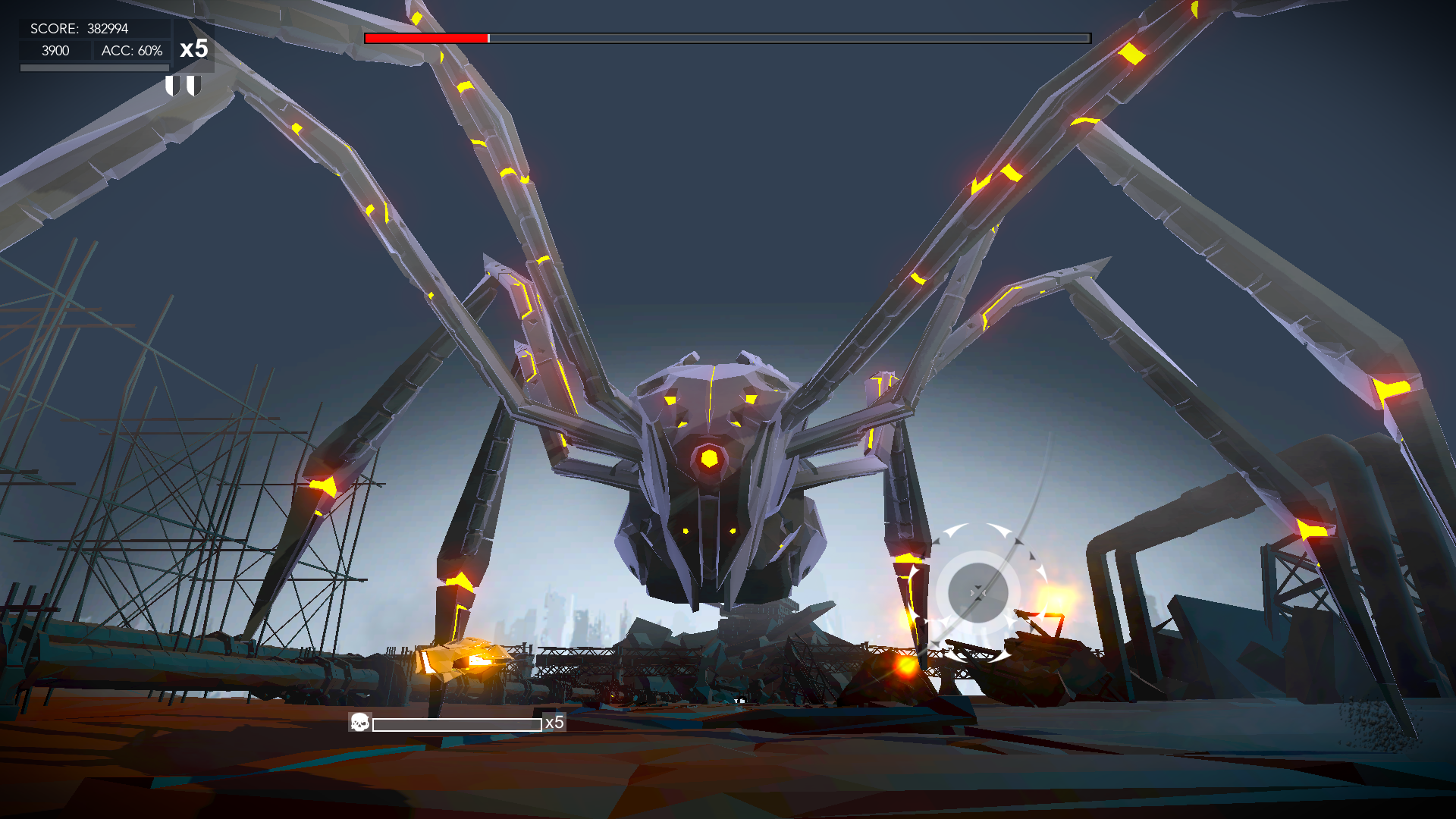 Now I know these genres don't seem to go hand in hand, but let's just talk about what Aero is.
Set to an eclectic soundtrack of trance and techno dubstep infused tunes, Aero (bubbly?) challenges the player to rotate the thumb stick of the controller to pilot their ship into the pathway of the 'song' certain parts of the song are tied into the track. So the drop or pitch change, even the vocal distortion, are all controlled by the players ship.
Hit the line, the track sounds mint, miss it and the track sounds… off beat.
That's the rhythm element to the game, but what about the rail shooter elements? Well as you would expect you have a cross hair that can be moved independently from the ship. With this you can lock onto targets, with firing and exploding effects all sounding calmly percussive, therefore not as distracting as it could have been.
Rhythm is a Shooter
The tracks and the controls work well to engross you as you play, but let's talk about those courses. A plethora of gorgeous, visually stunning worlds and enemies and segments that change with the track as well as obstacles to keep the player focussed.
This game is a pleasant sensory feast.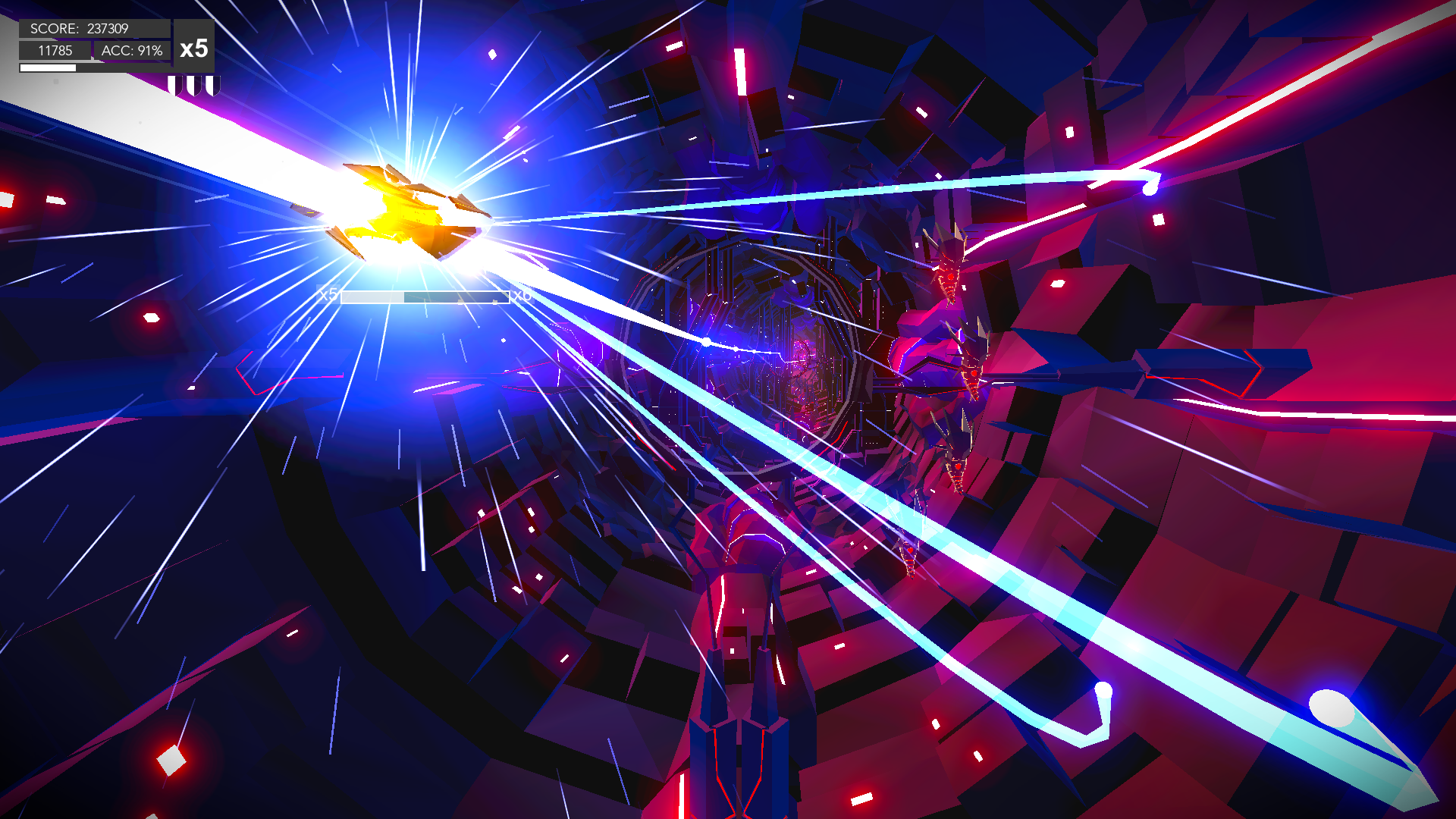 Between firing on enemies, keeping the ship in the right track areas, dodging walls and battling bosses in the beautiful locales the game serves up, there is plenty to like and plenty to absorb.
There is also a relaxed mode which allows you to play the levels and experience the game without worrying about lives.
Did I not mention lives? Yeah, this game has lives, or more accurately 'hits' represented as shields in the HUD, this is all well and good, but having to repeat sections can get just a little annoying, so having the relaxed mode (practice mode if you will) allows for a much calmer appreciation of the game.
Overall
So how does this bubbly game Aaero work compared to its counterparts? Very well actually, it does what it does very capably, whilst blending genres that you wouldn't normally consider together.
As a personal footnote, I have played video games a long, LONG, time and I have covered a lot of games on MGL. Playing Aaero is unique and never has my dexterity felt quite so inadequate, also never before have I been so pleasantly surprised by a game's soundtrack.
It is refreshing to see and indie game decides what is doing and sticks to its guns so ably. This is one to pick up, check out my scores below and don't forget to share this around on social media gamers.
About This Aaero Review
Game Reviewed: Aaero, digital download provided by publisher
Review Format: PS4
PEGI Rating: 7