Today we have a new The Sinking City gameplay trailer as the title gets closer to release on the PS4, Xbox One, and PC. Brought to you by Frogwares, this is an adventure game you may want to check out in 2019.
The Sinking City will release on 27 June 2019 and it's a title we're looking forward to here following some great adventures as Sherlock Holmes from the same developer.
Need to know more? We have a TON of info on The Sinking City below guys along with the trailer & screenshots.
For more on upcoming games, go to our 2019 games hub here.
The Sinking City Details
The Sinking City is a game of investigation and mystery taking place in a fictional city inspired by the works of H.P. Lovecraft.

Step into the shoes of a 1920s private investigator, Charles Reed, whose mind is slowly being devoured by terrible insanity.
In pursuit of a cure, the detective finds himself in Oakmont, Massachusetts. A city suffering from unprecedented floods of clearly supernatural origins. A city trembling on the brink of madness, just like Charles.

Can you survive this beleaguered town and untangle the mysteries responsible for its tragic situation or will you be driven beyond madness yourself?
The Story
Uncover an Otherworldly Mystery: The City of Oakmont, Massachusetts is slowly rotting away from a mysterious flood that slowly envelopes it both physically and metaphysically. You're going insane and humanity is on a brink of destruction from forces beyond human comprehension.

This is the world in which private investigator Charles W. Reed finds himself in. Use your detective skills to reveal the truth behind the powers gripping you, the city and the world and experience multiple endings based on your choices.
Those Were Different Times: Step into city of nightmares set in the roaring 1920's, an era when the United States was dealing with prohibition, racial segregation and a growing class divide from the post-WW1 economic boom.

The Twisted Locals: Even before the great flood, residents of Oakmont could be perceived as peculiar. But after the disaster, the level of insanity raised to incomprehensible levels – thoughts and actions unimaginable in ordinary society are now the norm.

Cults, fish-people, witches, and weavers. Bloody rituals with human sacrifices, experimentations on monstrosities that came from the sea, competition of criminal families and much more – all just a routine in Oakmont as the unknown forces of the flood slowly entwine themselves into the very life and fabric of the city and the minds of those left behind.
Story Rich Side Quests: Each additional quest is a complete story that brings to light more of the monstrosities of Oakmont and its inhabitants.
KEY FEATURES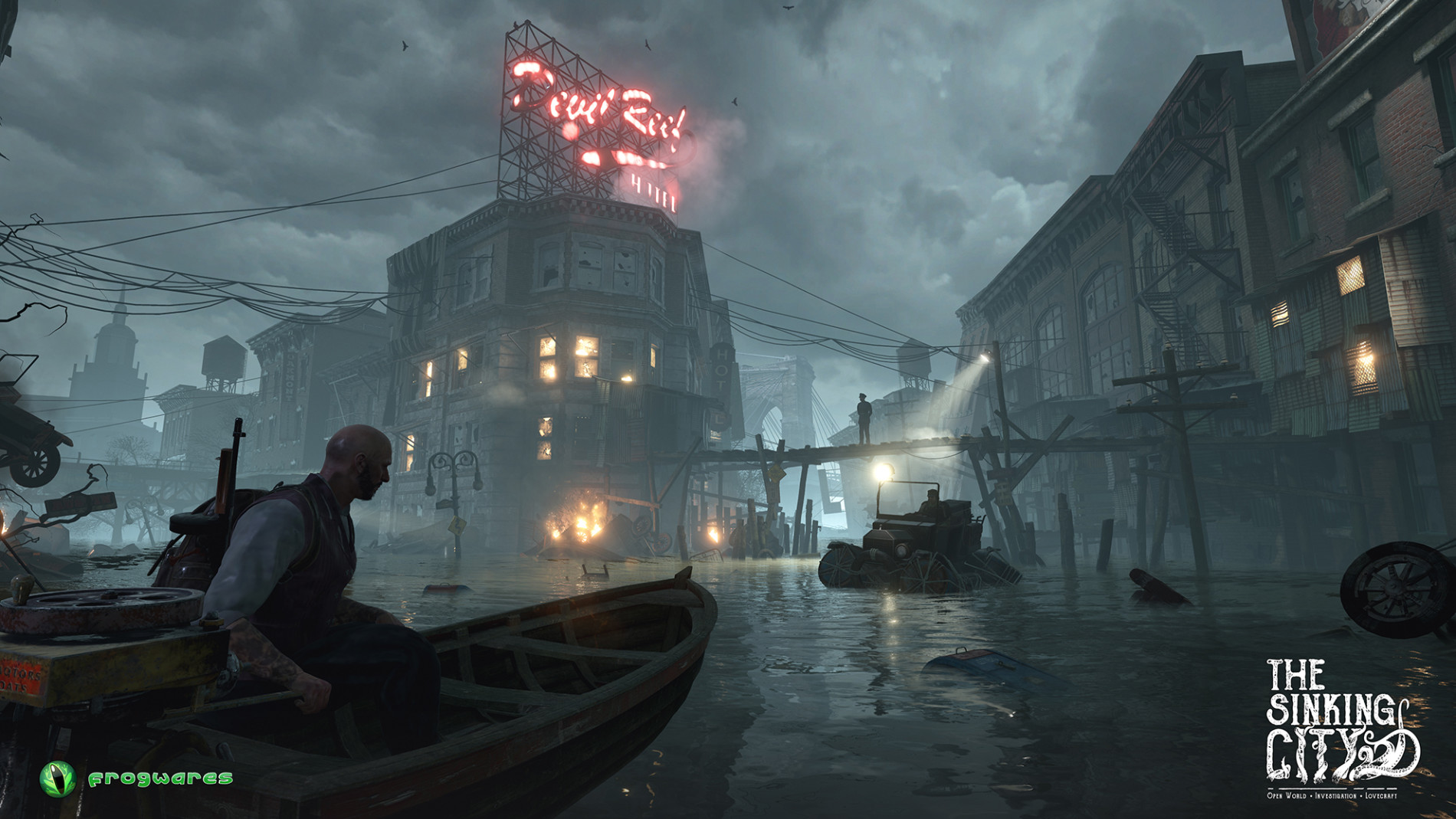 INVESTIGATION
No Handholding: There are no objectives on the map and straightforward quests. No magic waypoints automatically telling you where to go or search. You need to piece together the mystery yourself by finding clues, locations and suspects using your cunning and the few tools at hand.
Learn to Live Here: You'll need to take in your surroundings if you want to succeed. Learn the city grid to move around efficiently, take note of unique locations for when they come up in clues and conversations. Look for vagabond signs marking doors that lead to new opportunities, and take in the specific landmarks and street signs to learn the maze of Oakmont.
Mad Skills: Spot obscure details on the evidence with the help of your "Mind's Eye". Reimagine the events that took place on a crime scene with Retrocognition. Follow The Omens to reveal what's unseen to an ordinary detective. Utilize Archives within City Hall, Police Station, Library and other facilities to learn the history of Oakmont, and finally – cross-reference all known facts within your Mind Palace to come to the right conclusion.
Investigation Difficulty: Go with the flow, focus on the story and be helped with basic hints and prompts from time to time, or truly challenge your deduction skills and prove yourself as a detective mastermind by turning off all investigation assistance.
Like MGL for more…
We put our videos and news directly to our Facebook Page gamers so do make sure you Like it for regular updates!