We are all getting ready for the big get togethers this Christmas/Holiday time. And if you are like me, a gamer with children and lots of family fun going on, you can wonder what games are good to play together. This is why i have made this Gamer Dad's article featuring 12 local multiplayer Xbox One & PS4 Games for Christmas 2016, to help you with finding the right game to play this year.
Back when I started gaming all multiplayer was "local" but now it's usually online multiplayer unless stated.
Here we have a number "couch multiplayer" games along with two Single Player games when you need a break. Each one comes with PEGI ratings for you, plus how many players can enjoy the game at once plus my thoughts on them. These are split into three categories: Christmas Day Family Fun for games to play as a group, For The Kids for the little ones to play together and For the Big Kids for the grown ups to play after all has calmed down.
Please do Share This Around with gamers and non-gamers (they may find this most useful of all!). And also Drop A Comment at The End Using Disqus.
People will use this for help so please add any suggestions or thoughts on those suggested. Right, on with the list!
Here we have 5 games that you can all play together, young and old(er) on your PlayStation 4 or Xbox One. None of these require any expensive accessories either, so long as you have a smartphone, you can get involved with this titles and have some fun.
Just Dance 2017
PEGI Rating: 3
Players: Up to 6 At Once
My daughter (4) and Son (18months!) loves this game. So much my Xbox One is not my own at the moment. Just Dance 2017(My Review) is a great game and comes with a number of songs inside, plus when you get the game new you'll also get Just Dance Unlimited with loads more songs and modes free for a limited time. But it will certainly be perfect for Christmas.
The App is great too, simply download it to your phone via your App provider and use it as a controler. It's very responsive and lots of fun. In truth, really young children like my son just enjoy the dancing and don't really need the controller. My daughter however is all about the points.
With 6 players on screen this is a real laugh and can work off those big dinners in no time!
Just Sing 2017
PEGI Rating: 3
Players: Up To 4 At Once 
This is similar to the above, a game that allows you to use a mobile App to play. This time it's singing or lip syncing to the song on screen. This comes with a lot of fun (and noise) but really is a big of a laugh.
The game itself is less polished than Just Dance but it's really good if you have singers in the family or want to make some fun music videos. We've recently tried this and it really works although I would recommend it for slightly older children simply for the reading of the lyrics.
And, of course, people that can sing is always a bonus!
Jackbox Party Pack 3
PEGI Rating: 12
Players: Up To 8 (Mode Specific Limits)
If you have an older group on Christmas Day and want to play together there is the Jackbox Party Pack 3 recently released. The game has five different game modes that vary in players. Some need 3 or more some are up to 5 players it all depends on what you choose.
Again, sign into the game using a mobile or tablet App and get going with the games. Previous entries have been very fun and highly enjoyed.
Rocket League
PEGI Rating: 3
Players: 4 Local Co-Op (split screen)
If you have not heard of this game you are not into gaming at all! This indie sensation is massively popular and if you have a smaller group and a number of controllers to hand, this is the game to play.
You control a rocket powered vehicle trying to play giant 5-a-side-football basically and its so much fun to play. You can play split screen multiplayer with up to four players (so long as you have 4 controllers) and it's so much fun.
Plants VS Zombies GW2
PEGI Rating: 7+
Players: 4 Local (split screen)
Another game that is very popular and one to really get your family having fun working together. The game is what's called a "Tower Defence" where you have a base and need to defend it but also need to take over the enemy base. There is some shooting here (in a cartoon style) so hence the older PEGI rating.
For older children it's lots of fun but the people you'll have the most trouble getting off Plants VS Zombies GW2 are the grown ups! Because it is so competitive it really does get very addictive. You can have a lot of fun with this one and I highly recommend it for families with older children.
Again, make sure you get enough controllers for the console if you get this game.
Wait, aren't all games for kids? Surprisingly they are more for your late teens and mid-20s people so it's not that easy to get really enjoyable games just for the little ones to play. These however are great fun and come with everything you need if you get the right pack before Christmas.
Skylanders Imaginations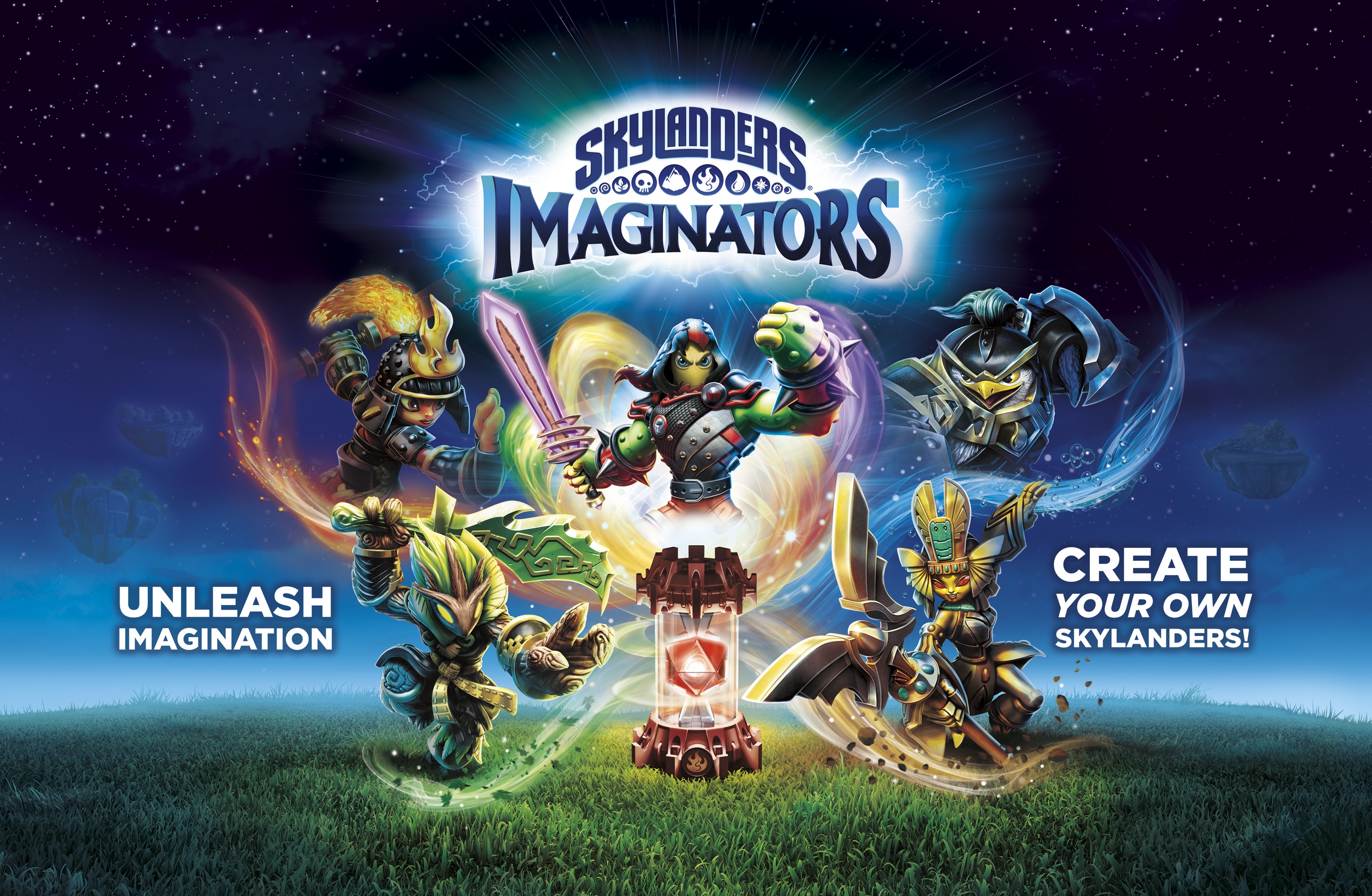 PEGI Rating: 7
Players: 2 Local Co-Op
Skylanders is massive with kids and has a lot of positive reviews and feedback generally. If you wanted a game to give them something you really should consider the starter pack on Skylanders Imaginators.
This comes with all the equipment you need, see the game is played with toys that you get in the real world. They are then ported into the game. The cool part about Imaginators is the ability for the kids to create their own Skylanders which is pretty nice and promotes some imagination too. Hence the name i guess!
The game is also local Co-Op so 2 can play together at once and help each other work through the game. Its has some combat in there so is designed more for older children, 7 and above.
LEGO: The Force Awakens
PEGI Rating: 7
Players: 2 Local Co-Op
Now, to be honest I could have said "any LEGO game" but that is cheating. This is the latest one and is something that makes children and Star Wars fans very happy. Got a child that is a Star Wars fan, get this and you are basically Santa!
They are funny, have great puzzles and are generally a joy to play, this could even be played with an adult and they'd have considerable fun too.
The Star Wars element is great and there are even more so if this isn't for you, check out more LEGO Games here.
Super Dungeon Bros
PEGI Rating: 7
Players: 4 Local Co-Op
I've got to put this one in here too because it's a lot of fun and made by a smaller developer. These guys have done a fantastic job making this game lots of fun to play. You work together here to clear the dungeons with your team and take the fight to many a demon.
The game lets for players, if you have enough controllers, get on screen at once and what makes it stand out so much is the uniqueness of the title. It all gets a bit crazy and can lead to many hours of fun.
Ratchet and Clank
There is always one exception and I couldn't miss this game off my list for you all even though it's single player. This is because Ratchet and Clank(Review) is one of the best, most fun games all year and really is something to consider getting the kids something to enjoy.
It's fun to play and to watch plus you could easily take turns on missions here and have a lot of fun with it.
Let's face it, you need a break at some point and this is a really good game to let them just play. If you only have one child, they will love this one (but so might you!).
Dragon Quest Builders
Another one to give you a break from everything. This is an alternative to Minecraft which is a very popular game but Dragon Quest Builders (Review) really does have a lot of content for kids to enjoy.
The game is mission based rather than being totally free so gives a focus to what you are doing. There is a massive amount of things to do here and will keep the occupied for some time. Again, the pace of the game is enough to have turn-taking and working together even if only one person actually plays at once.
Yes, big kids like Dads and Mums love a good bit of gaming. But rather than not talk to each other and fight over who's playing or not. Check these 2 games out that you'll really enjoy playing together this Christmas.
Enter The Gungeon
My good friend and fellow gamer here on MGL David Game is a huge fan of Enter the Gungeon(review). He's made me get this one for Christmas to play and I will try and get Mrs Rossco involved too since it's built to play locally with 2 people.
There is so much to enjoy about this simple game it may well have you really enjoying yourselves after the festivities are over. Much better than seeing Mary Poppins again, although Die Hard should not be missed people!
It's one of the best games of the year and really enjoyable to play together.
Diablo 3 Reaper of Souls
PEGI Rating: 16+
Players: 4
Not a game from this year but a massive, huge game that should be played together and one that has so much addictive quality you'll be playing for hours and hours.
Diablo 3 (review) is an exceptional game to play and can really be enjoyed together on local co-op between friends or a couple. With the potential of 4 players it's great for a group of gamer grown ups to have some fun when the festivities have died down
That concludes the list but I don't know everything!  Drop A Comment below Using Disqus. Add any suggestions or thoughts on those suggested by me and help people know some more options.
A big Merry Christmas/Happy Holidays from me and the team at MGL. Enjoy some Christmas Gaming all.