A new year and a new console almost right away. For myself and the gamers here at MGL, 2017 is a mouth-watering prospect for amazing games. And Nintendo are back in the console market with the big boys once again. After my PlayStation and Xbox 2017 Preview it's time to look at the new console on the market. But Will the Nintendo Switch succeed in 2017, and deliver in the console market where the Wii U failed?
Overall I'm positive on the console, there are many things I like about it. But, I also have fears it could fall flat… Just like that battery is going to after a few hours of gaming on the move!
Much like my previous articles, I'll be looking at what I think are the keys to success for this new Nintendo console. Plus, the 3 most important games for the machine this year and my concerns for the 2017 too. While I do point out the potential flaws in this console, I should be clear that my pre-order has been made and I'm expecting to get my hands on one in the coming weeks. Hopefully it will make a great first impression.
But that's just me; I'm more interested in you gamers out there. What do you think about the Switch? Have you played one? Leave me a Disqus Comment with what your hopes are following my thoughts below…
Keys to Success
Unlike the other consoles on the market, Nintendo are once again doing their own thing.
As mobile gaming devices go Nintendo are the masters. The Gameboy and its history leading to the 3DS is a huge success. This bodes well for the portable nature of the Nintendo Switch.
But the lack of serious support for the Wii U from the big third party publishers is a mistake they can't repeat. But what must they get right to make the Nintendo Switch succeed in 2017?
Make An Amazing First Impression
One thing that surprised me about the Switch is how quickly everything is moving. The teaser came in October, then the full details this January(read more) and now it's coming out in March.
They are not messing around clearly.
But it needs to hit the market hard with a first impression that says this is Nintendo's big return. To do that they simply need to get positive word out there early, with impressions and positive reviews starting this February.
Now our Nintendo person and awesome writer Natalie Gave Her Switch Impressions(read here) on her hands-on time with the console and upcoming games. So chances are many games and the machine itself is going to be available February to reviewers, YouTubers and gaming websites… like this one Nintendo!
Nintendo have to move with the live streaming, let's play and gamer lead website times we live in. Get some hype built up from gamers and the big media boys too of course. These need to be showing just how good the Switch is and why pre orders should NOT be cancelled and they should in fact sell out.
Prove They Have Big 3rd Party Support
So far Nintendo have revealed a good portion of games coming to the Switch that are 3rd party. The cool looking Yooka-Laylee is one and we also have I Am Satsuna and big titles like FIFA and more coming to the console.
But we are starting this year with some really big 3rd party titles. For Honor looks a potentially great game plus Ghost Recon Wildlands and Mass Effect Andromeda is looming the same month as the Switch releases.
Can the Switch handle these levels of games? Will the developers be making versions to run on it?
According to details published, Nintendo have big third party support and even have a list of games developers making titles for it. See… It's here and contains some big names.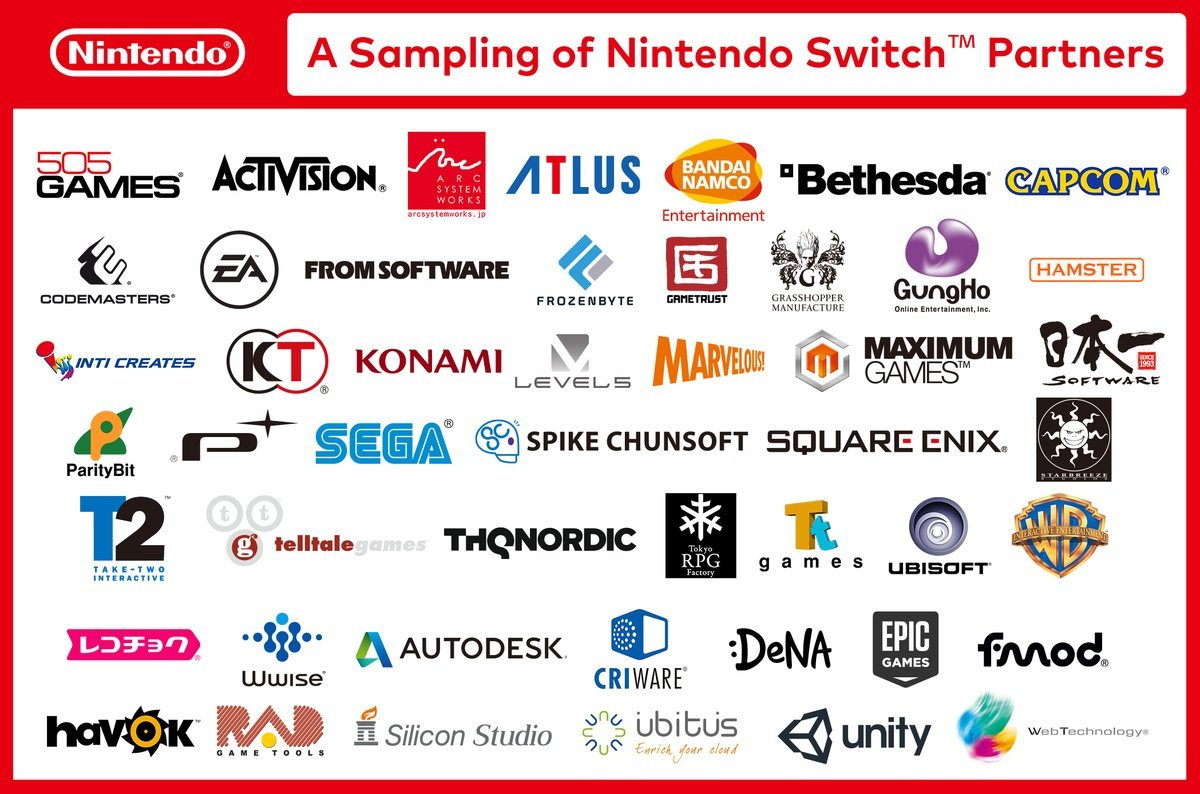 Seeing those big names on it is a really positive fact to present here. But there is only one way to truly convince people this is going be supported far better than the Wii U was. The big 3rd party games need to be on that Nintendo Switch list as close to launch as they can.
I get they will not have the entire library of PS4 and Xbox One 3rd party games right away. But they should have a plan to roll out a backlog over the year. And maybe surprise us with some of the big games coming up announced for the Switch.
Mass Effect Andromeda or Injustice 2 on the move anyone? Sounds a big selling point to me and one we need to convince us this console really is a good option to have. I for one would certainly feel the benefit from playing bigger, more time consuming games on the move. Especially to get all my reviews done.
Still Be Nintendo
While they need to improve on third party games, you can't take anything away from their mastery when it comes to original titles. Something of a weakness I identified for Xbox in my preview of their possibilities this year.
Nintendo make amazing games full of originality and fun. A key ingredient in gaming sometimes missed by other developers.
I do love to play games like The Last of Us or Gears of War 4(review). They are fun to play even, but they are serious plots with intense gameplay. It's great to have that experience on the market, but there is something special about a game that can put a smile on your face as you play. For all Nintendo get wrong on occasion, they are the masters of making games that are a joy to play.
Right now the Nintendo Switch looks like it could be the console to unite a number of markets. Combining Nintendo's mobile games prowess, bringing in quality from the 3rd party market and the motion features of their previous consoles. Keeping that classic Nintendo magic is also a priority, and one I can't wait to experience.
But what are the key games to make it all work? Let's take a look in the next section.
Most Important Games
So with a new console there is only one thing that is really going to sell it. It's not teraflops that give me a reason to buy a machine. Personally I'm all about the games. Nintendo have shown their hand with some really impressive titles on show and a few with question marks over them.
Which are most important? Let's have a look… No prizes for guessing the first one though!
The Legend of Zelda: Breath of The Wild
The obvious one, but one I simply can't leave out. To remain slightly unpredictable, I'm not including Super Mario Odyssey simply because it's too far away right now. The console is focused on its launch period, and so am I.
And on day one the biggest selling Switch game will be Breath of the Wild. However many they make, they will sell them because the game looks like this…
Don't Forget To Like Our Facebook Page for more videos and Updates!
Damn that's pretty! But it also comes with a rich history of being a wonderful game to play. And to see the story elements coming to light makes me ready to hide away and play this a few days before coming out of my man-cave.
I want to see how this Link handles and how the gameplay in this gorgeous world works and so do many others. Is this worth getting a Switch for though? Considering it's on the Wii U as well, some gamers have a decision to make here.
For those with no Wii U, and there are many of them like me for one, this is the perfect situation. New console, new game so just the money to find then… "where's that spare kidney I dont need?"… But if you have one, this needs to be a game changer. One that makes people think, yes, it's on Wii U but it seems so much better on the Switch.
The mobile features, the quality of the performance and graphics make it drive the fans to get the new machine. This is hugely important for the Nintendo Switch and really could be a game of the year contender. That wouldn't be a bad start now would it?
ARMS
Now there is nothing to stop 1, 2 Switch being another great launch game. It could well be but, I personally think ARMS is more important in that it feels more a traditional game with that Nintendo twist.
As you can see its gameplay is competitive, using motion controls to win a battle on screen. But it's all in a fun looking game world with some intricate movements based on your real hand gestures. A mix of the gameplay Wii owners have enjoyed, fighting game gameplay and the new features of the Switch.
This one needs to really support the release of the new console. The main game is of course Zelda but we need more than just that as an option. ARMS looks fun but could be gimmicky if the overall content isn't to a high standard.
A Big Third Party Game
Some big games are out in 2017 already and others are coming up. Ubisoft have both For Honor and Ghost Recon Wildlands coming. EA and Bioware have Mass Effect Andromeda to arrive with a big fan following. There are big games coming before the summer too including Injustice 2 and more.
There needs to be Switch versions if this console is to be a true success. But can in handle them?
This is the big one for me, we need a big list of games coming to Switch that include the big titles out there. Now I get waiting to announce them, games that are coming out before the Switch won't want to disrupt launch day. Plus they don't want to dilute the big Nintendo titles either.
However, games coming out after need to be on the list and confirmed (or not) one way or another very soon.
Do all of them need to be on there? Well, for me they should be. There is no reason not to if the machine can handle that level of performance. And it certainly should. Maybe not 4K but certainly running similar to the standards of a standard PS4 or Xbox One.
Anything less and I don't see it being a big step forward for Nintendo personally. And this brings me nicely to our last section on my concerns for Nintendo in 2017.
Concerns for 2017
There are a few, I won't lie gamers. This console has so much going for it and I really am looking forward to playing mine. Clearly my concerns are not enough to stop me going for one myself, but there are some that may well stop others.
That Battery Life and Storage
Our first reaction here on MGL was with myself and David Game on our Nintendo Switch Podcast Episode and we were generally quite impressed. But the big ones for both of us were that battery life range and the painfully low storage space.
As the title of this article suggests, I personally don't think much to the advertised battery life on this machine. So much that I really think the top end of the range, 6 hours, should practically be the minimum it delivers. This is actually 2.5 hours in reality and doesn't inspire me.
Yes, this depends on the game but I was really hoping for a target of around 5 hours as the minimum on this machine to really be treated as a serious mobile option. As a driver, I'm less likely to be so bothered by this day-to-day. But some people have 2 hour or more one-way commutes on public transport and this machine may not last that.
This is a shame.
Then we have the storage which is again really low in a day and age where solid state memory is reasonably inexpensive. Once you add in getting a memory card this machine could turn out to be quite expensive on the move.
But, no one has really experienced it all yet. There may be lots of ways it all works and could be less of an issue for people than I imagine it to be. The reviews are likely to give us an idea of this so we shall get our answer in the coming weeks no doubt. Let's just hope I'm not right because this my see an upgraded battery version out later in the year… and annoying the hell out of day one buyers!
Can It Handle The Big Games?
This is my biggest concern here. As said before in the article, why shouldn't we expect the new console to run the majority of the third party games market? There are some big developers and publishers mentioned on their lists but I want to see that be the best of these publishers. Don't get me wrong, I really enjoyed Just Dance 2017(Review) but this isn't the best Ubisoft has to offer.
If they get me swinging my sword around in For Honor with my Joy Con and I'm going to be one happy Viking.
This isn't a PS4 in terms of power and performance so we know it's not quite going to hit the standards that machine is capable of. But how many games out there really push the PS4 to it's limits that are not first party games? I doubt many of them really get close, so some must be able to make the move over.
The thing that will decide whether the Nintendo Switch is a success or not is mainly going to be in the games rather than the technical performance. But if the technical power is not there, it can't run the games. A rather big paradox for Nintendo to solve, one they usually manage with their 1st party masterpieces. But they know they can't survive in this market just with that.
Prove this console can handle the market enough to make it worth it Nintendo!
Finally…
I really, really want the Nintendo Switch to do well. I always want things to do well, Mass Effect Andromeda Concerns Me but I want it to be awesome. Soon you'll get my thoughts on Horizon Zero Dawn that has me excited but apprehensive at the same time.
There is so much going for the Nintendo Switch and the creativity of Nintendo is at legendary status in many ways. I want this to work, but I can't hide from the worries about this being another Wii U.
That's just me though gamers. What do you think? Will this be the return to glory for Nintendo? Or will it fall flat and feel the pain of being underpowered in the market with PS4 Pro and upcoming Xbox Scorpio? Drop some Disqus or Facebook Comments Below and let's get talking about it.
Next on MGL from me, other than about 10 reviews i'm catching up on, we'll look at the upcoming console exclusives of 2017 for each platform. Until next time gamers, get commenting, share this with your gamer friends and game on.