Well it's been a good year for Indie Games so far and more are coming up as we go into March 2018. We're still enjoying some off the awesome February Indie games you might want to look at. But in this article we choose 10 of the best upcoming indie games March 2018 has to offer.
This includes our thoughts on the game, videos, information and a video accompaniment which you can watch in the header above. Indies are here in all shapes and sizes, and on all formats including PS4, Xbox One, Nintendo Switch and PC games.
Are you an indie publisher reading this and want your game featured? Head to our contact page.
11
Watch the list (and subscribe to us)
If you would like to watch our 10 best indie games March 2018 YouTube video, check it out below. We are really going for our gaming videos at the moment so do please Subscribe to our YouTube Channel for much love from us at MGL.
Format(s): PC (Leaves early access)
Release Date: March 1
By: Red Limb Studio
Not one for this scaredy cat writing this up, but for fans of horror and survival games this is for you! If you are as insane as the game itself you can even play this in VR! This game by Red Limb on Steam is already getting some positive reviews from Early Access and the full games comes out at the start of March. Who's brave enough?
Rise of Insanity Information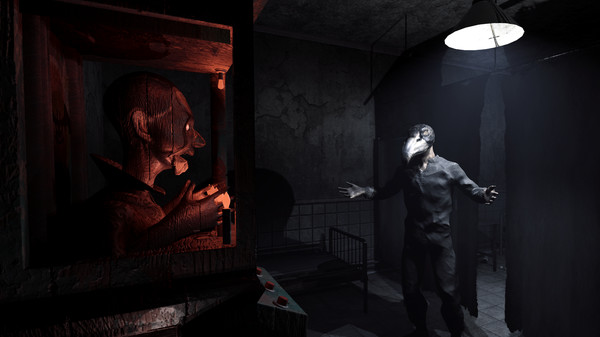 Rise of Insanity is a first-person psychological horror game, with additional support for VR, which draws inspiration from greatest psychological horror movies such as The Shining, The Exorcist and Silent Hill.
Set in America in the 1970's, the story centers around Dr. Stephen Dowell, a renowned phycologist faced with a difficult patient who shows distinct yet contradictory symptoms of different mental disorders. The life of the doctor himself is also shrouded in mystery – you must step into his shoes to find out the truth.
Key features
The realistic graphics provide a horrifying and immersive atmosphere that will chill you to the core.
Haunting, atmospheric soundtrack and professional voice acting.
Explore diverse locations inspired by North American architectural trends from the early 70s.
Walk, examine, discover dark secrets and solve logical puzzles. Descend the inner depths of the human consciousness.
Format(s): Nintendo Switch
Release Date: March 1
By: iFun4All
Moving onto a very different style of game we have this hand drawn Paper Wars title from iFun4all. It's had a little bit of a reworkings too as the game heads to the Nintendo Switch with a number of improvements. For one, the game is getting fun hand-drawn zombies which is surely a win. Looks silly, looks fun and well worth a look.
Paper Wars: Cannon Fodder Devastated Information
Paper Wars: Cannon Fodder Devastated is the refreshed, updated, remastered, and enhanced edition of the beloved Wii tower defense-like game! With updated graphics built from the ground up in Unity and a brand-new chapter where we've exchanged soldiers for zombies, it's just better than ever!
The game contains:
Three campaigns, each with 20 missions.
One brand-new campaign designed from scratch…
… with zombies in it! Fighting robots was boring.
Sketch-like art style that could only be created by sleepy kindergartners.
Three difficulty settings.
And a survival mode!
Format(s): PS4, Xbox One, Nintendo Switch, PC
Release Date: March 6
By: Sushee, Square Enix Collective
Fear Effect was big back in the days of the original PlayStation. The well crafted cutscenes were pretty awesome back then but the gameplay was really entertaining too. Now it's back with Sushee developing the game and Square Enix Collective helping to publish this classic series for a new generation. Coming to all consoles and PC it's one that's pretty hard to ignore too, it certainly looks a look for fans and newcomers alike.
Fear Effect Sedna Information
Thrilling action and stealth gameplay enhanced by the Fear system, an exciting story and ultra-stylish cutscenes. Harness your team's dynamic abilities to tackle enemies and puzzles like never before. This is the quintessential sequel for existing fans and a perfect starting point for newcomers.
The Fear Effect: When your fear meter rises, you will be more susceptible to injury but will receive a boosted damage output and special abilities. Deny fear with stealth and strategy through the new isometric viewpoint and Tactical Pause feature.
Enter the spirit realm: Encounter mystical forces of the Inuit and supernatural creatures of the spirit realm. Will you dare to face the unexpected?
Cinematic cut scenes: Striking animated visuals bring life to a wild, engaging story and dynamic characters.
An array of weapons and character abilities: From silenced pistols and defensive turrets to flamethrowers and monstrous transformations!
Format(s): Nintendo Switch
Release Date: March 8
By: Awesome Games Studio
This cool indie title is taking a twist on Zombie games as you take on the role of the flesh eating monster in this game! That's right, you are the zombie and you are trying to bite as many of those tasty looking humans as you can. Then you turn them into your army and get the rest of them. It's a simple looking game in presentation but it looks the perfect game for on the move with then Nintendo Switch.
I, Zombie Information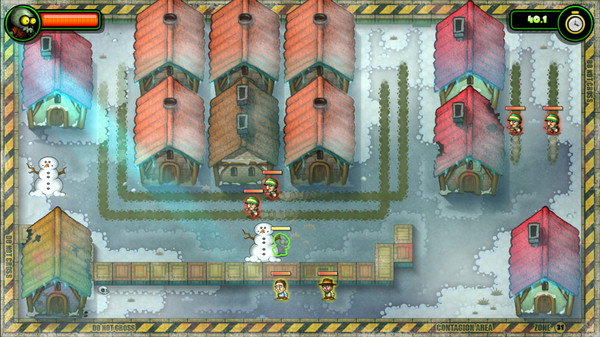 Quite a different zombie game – this time YOU are the zombie! Command your infested comrades, fight your way to freedom and let the zombie kind dominate the world!
In I, Zombie you play as the leader of a zombie horde and your goal is to infect all humans on the map. Whenever you infect a human you turn him into a one of your kind and you can use him against armed soldiers. You're also able to command your horde to either attack the enemies, follow you or wait for orders. Each scenario requires tactical approach and careful planning to achieve success.
Format(s): PC (Console Release TBC)
Release Date: March 8
By: Fatshark
Our man here at MGL loved the original Vermintide(Neal's review) and a few of us in the team really enjoyed playing it on his and many other people's recommendation. Now we are seeing the next installment from Fatshark as the PC version of the game goes live on March 8. If it's anything like the original and has great new features that it promises, this could be another great game from them.
Vermintide 2 Information
From the developers of the award-winning Vermintide comes Vermintide 2, a visually stunning and action-intense first person co-op game pushing the boundaries of the genre.
You and your allies are the only force standing against the onslaught of the mighty warriors of Chaos and the hordes of Skaven. If you fall, so shall the Empire.
In the End Times of the Warhammer world, you will be challenged like never before as you and your team of Heroes face untold enemy hordes in a desperate struggle to save the Empire from devastation. Choose a career for your Hero, climb the talent tree, pick from a vast range of unique weapons and gear, and hack through the ranks of the monstrous invaders.
Format(s): Nintendo Switch
Release Date: March 8
By: Bootdisk Revolution, Digerati
2D action packed games are one of the best genres out there for me. And Bleed 2 has received some outstanding reviews on other formats. Now it comes to the Nintendo Switch where all great indies are heading it seems. This seems fast, arcadey and has some awesome boss fights in a classic style. I can't see a reason not to consider getting this one gamers.
Bleed 2 Information
A furiously fun and fast-paced arcade action game, Bleed 2 welcomes back pink-haired heroine Wryn, the world's greatest – and only remaining – hero, as she fights to defend the globe from an invading force of villains. Master the art of air-dodging and bullet-reflecting to stylishly take down a relentless barrage of bad guys and bosses (and naughty kittys!), and make sure Wryn lives up to her title as the Greatest Hero of All Time!
FEATURES
7 intense levels with over 25 boss fights
Unique controls let you shoot, dodge, reflect bullets and slow time all at once
4 difficulty levels that remix enemy placement and boss patterns
2-player local co-op for all modes
Unlockable weapons, characters and abilities
Arcade Mode: Tackle the game on a single life.
Challenge Mode: Fight up to three bosses at the same time
Endless Mode: Test yourself against a gauntlet of randomly-generated levels and daily challenges
Format(s): PS4, Xbox One, PC
Release Date: March 13
By: Toxic Games
A different pace of game now as you go slower and more first-person in this puzzle adventure from Toxic Games. The visuals look amazing as they did in the award winning original title. Stranded on an alien planet you need to find your way out and back to your colleagues. One of the slower games on the list but one that could prove highly addictive and tough to complete.
Q.U.B.E. 2 Information
Q.U.B.E. 2 is the sequel to the hit first-person puzzle game Q.U.B.E. You are Amelia Cross, a stranded archaeologist who has mysteriously awoken among the sand swept ruins of an ancient alien landscape.
Together with the distant help of another survivor, Commander Emma Sutcliffe, you must traverse and manipulate the structure of this forgotten world to find a way back home. Waking up wearing a strange suit with attached gloves, you have no prior knowledge on how you came to be in this environment.
Awaiting you is a maze-like monolith, a structure that you must navigate, solving mind-bending puzzles. Use your manipulation gloves to change and adapt the architectural structure in your search to rendezvous with another survivor, finding a way off the planet.
Format(s): PC
Release Date: March 15
By: Flow Fire Games
Here we have a classic looking rogue-lite game that has some really cool looking action gameplay elements. There is a certain retro quality about this game that really looks like it could be a great title to enjoy for PC gamers. I will certainly be taking a look given the 80s theme!
Synthetik Information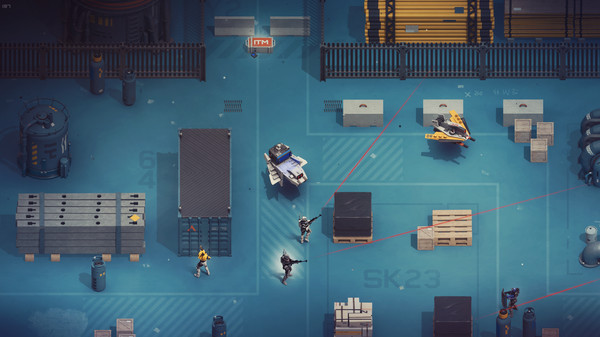 1985. After many years of slavery, the AI servants of Kaida Corporation, the world leader in robotics, have formed the "Machine Legion" and have set out to destroy humanity. Awakening in Kaida Corp. Headquarters, you are the human consciousness of a forgotten Android prototype; the last straw holding the Legion from unleashing the Heart of Armageddon.
Only you can battle through the levels of Kaida Corporation's Headquarters, defeat the battalions of enemies within and put an end to this madness.
Synthetik has all the core components of a great rogue-lite – an insurmountable objective defended by relentless opponents encased in ever changing environments filled with a massive cache of weapons, perks and upgrades to discover.
Format(s): Nintendo Switch
Release Date: March 23
By: 7Levels
In the mould of the classic 2D action games like Altered Beast and many other retro titles comes Castle of Heart. His game sees a cursed knight who is turned to stone use love and his big sword (cough) to fight his way to freedom. I looks like there are some cool weapons and plenty of challenges to take on here too. Looks a nice twist on a classic formula.
Castle of Heart Information
Castle of Heart, available exclusively for Nintendo Switch, is a classic action platformer at the genre's best…and most challenging, with plenty of new twists on formula to experience. The players take control of a cursed knight, turned to stone by the evil sorcerer's spell, but ready to prove that love and courage can conquer even the darkest magic.
The brave hero must travel all the way from the petrified village to the dark ruler's castle, mastering 20 levels set in four distinct environments – full of enemies who require different strategies to face them successfully – and sudden gameplay changes, which translate to exciting, dynamic action sequences.
A selection of progressively more powerful additional weapons, from flaming grenades to a powerful magical arsenal, as well as power-ups, will help him in his quest. But remember – the body of stone has its limits!
Format(s): PS4, Xbox One, PC
Release Date: March 30
By: Madmind Studio
Another I will be wayyy too scared to play this month… or ever! Agony looks truly terifying and also quite the concept to. Walking through hell as you try to escape a past of sins you can't remember. You have some force-like powers to gain helpers from other souls and demons. Plus the visuals and atmosphere in this game look amazing, if a little freaky!
One for the brave out there…
Agony Information
You will begin your journey as a tormented soul within the depths of hell, without any memories about your past.
The special ability to control people on your path, and even possess simple minded demons, gives you the necessary measures to survive in the extreme conditions you are in.
By exploring the hostile environment and interacting with other weary souls of the hellscape, the hero will soon understand that there is only one way to escape from Hell, and it will require meeting the mystical Red Goddess.
Pick Your Favourite! (And don't miss the Main Games for March 2018)
Over to you gamers! Which of these indie games will be getting this March?
Personally, I'll be sticking to the non-terrifying games! So I'll playing Fear Effect Sedna and probably Castle of Heart. But do let me know yours in the comments below using Disqus or Facebook.
Also, our look at the main publisher Games Releases March 2018 for more great titles to play!
Did you find this useful? Other gamers might too! Please Share This on social media.
All March 2018 Video Games Releases – Table
Here are all the video game releases March 2018 for you, correct at the time of publishing. This includes games additional to those featured above.
| | | |
| --- | --- | --- |
| Game | Format | Date |
| Paper Wars: Cannon Fodder Devastated | Nintendo Switch | 01-March |
| Rise of Insanity | PC | 01-March |
| Bravo Team | PSVR | 06-March |
| Final Fantasy XV: Royal Edition | PS4 | Xbox One | PC | 06-March |
| Frantics | PS4 | 06-March |
| Scribblenauts Showdown | Nintendo Switch | PS4 | Xbox One | 06-March |
| Fear Effect Sedna | PS4 | Nintendo Switch | PC | 06-March |
| Bleed 2 | Nintendo Switch | 08-March |
| Warhammer: Vermintide 2 | PC (Console Release 2018) | 08-March |
| I, Zombie | Nintendo Switch | 08-March |
| Devil May Cry HD Collection | PS4 | Xbox One | PC | 13-March |
| Golem | PSVR | 13-March |
| Q.U.B.E. 2 | PS4 | Xbox One | PC | 13-March |
| Surviving Mars | PS4 | Xbox One | PC | 15-March |
| Synthetic | PC | 15-March |
| Kirby Star Allies | Nintendo Switch | 16-March |
| Burnout Paradise Remastered | PS4 | Xbox One | PC | 16-March |
| Assassin's Creed Rogue: Remastered | PS4 | Xbox One | 20-March |
| Attack on Titan 2 | PS4 | Xbox One | PC | Nintendo Switch | 20-March |
| Sea of Thieves | Xbox One | PC | 20-March |
| Titan Quest | PS4 | Xbox One | 20-March |
| A Way Out | PS4 | Xbox One | PC | 23-March |
| Detective Pikachu | 3DS | 23-March |
| Ni No Kuni II: Revenant Kingdom | PS4 | PC | 23-March |
| Pure Farming 2018 | PS4 | Xbox One | PC | 23-March |
| Castle of Heart | Nintendo Switch | 23-March |
| Atelier Lydie & Suelle: The Alchemists and the Mysterious Paintings | PS4 | Nintendo Switch | PC | 27-March |
| Far Cry 5 | PS4 | Xbox One | PC | 27-March |
| MLB The Show 18 | PS4 | 27-March |
| Agony | PS4 | Xbox One | PC | 30-March |
Games & Series: Agony, Bleed 2, Castle of Heart, Fear Effect Sedna, I zombie, Paper Wars Cannon Fodder Devastated, Q.U.B.E 2, Rise of Insanity, Synthetic, Vermintide 2
Gaming Platform: Nintendo Switch, PC Games, PS4, Xbox One
Genre: Indie Games
MGL Features: Video Game Releases