With release almost here, we are getting excited for Ni no Kuni II: Revenant Kingdom. The latest RPG from Level 5 Games and Bandai Namco. The first game was incredible and many of you out there are ready for the sequel, including us here at MGL. With the game launching on 23 March 2018, it's a good time to look at some of the Ni no Kuni 2 PS4 and PC gameplay features to look forward to.
Ni no Kuni 2 looks gorgeous and coming to the PS4 and PC for the first time is certainly going to see some improvements. The combat, story and world itself is going to be bigger and better, but what really stands out? Check out the list below, plus we have a video accompaniment to enjoy from the MGL YouTube Channel.
7
What are you looking forward to MOST in Ni no Kuni 2?
Since you are here on MGL looking at this, you are interested in Ni no Kuni 2. But, we want to know your thoughts on the game and what you are looking forward to doing MOST. So, no sitting on the fence here guys…
What about Ni no Kuni 2 makes you REALLY want to play THE MOST it when it comes out?
Personally, I think the updated combat system stands out the most to me. But I also can't wait to experience the amazing story telling again. But that's me, what about you? Get in the Disqus and Facebook comments below and let me know.
Watch the video
If you can't see the video in the header above, check it out below. Don't forget to subscribe to the YouTube Channel too. We've made it so easy, just click the button below!
The first game, Wrath of the White Witch was an outstanding story. It was filled with emotion, quirky characters and great concepts. Most of us here at MGL have been wondering what exactly will be the plot of Revenant Kingdom, with most of the game being kept under wraps.
According to the latest documentary videos on Bandai Namco's YouTube, Ni no Kuni II has two main characters. Evan; the young king in the making and Roland; a man out of place in a foreign world.
With Evan as the primary focus and a host of unique characters, Ni no Kuni II's plot looks set to strike wonder, shock and awe in to our lives. Especially since the team have had a longer development cycle than the original game, all of which you can hear about here:
It's pretty clear they're being deliberately cautious with their information to not spoil anything. What we know so far is that Evan goes through a tragic event and Roland is there to support him as a father/older brother figure. Plus, since Evan would be King, something sees him dethroned somehow and needs to retake his kingdom.
I'm incredibly excited to get stuck in to the game's plot. One that many sources are stating has a more mature tone to it.
Level 5 officially describe the story as: A charming and tragic tale unfolds as Evan, a boy prince learns how to become a leader and build a kingdom.
5
The Gorgeous World to Explore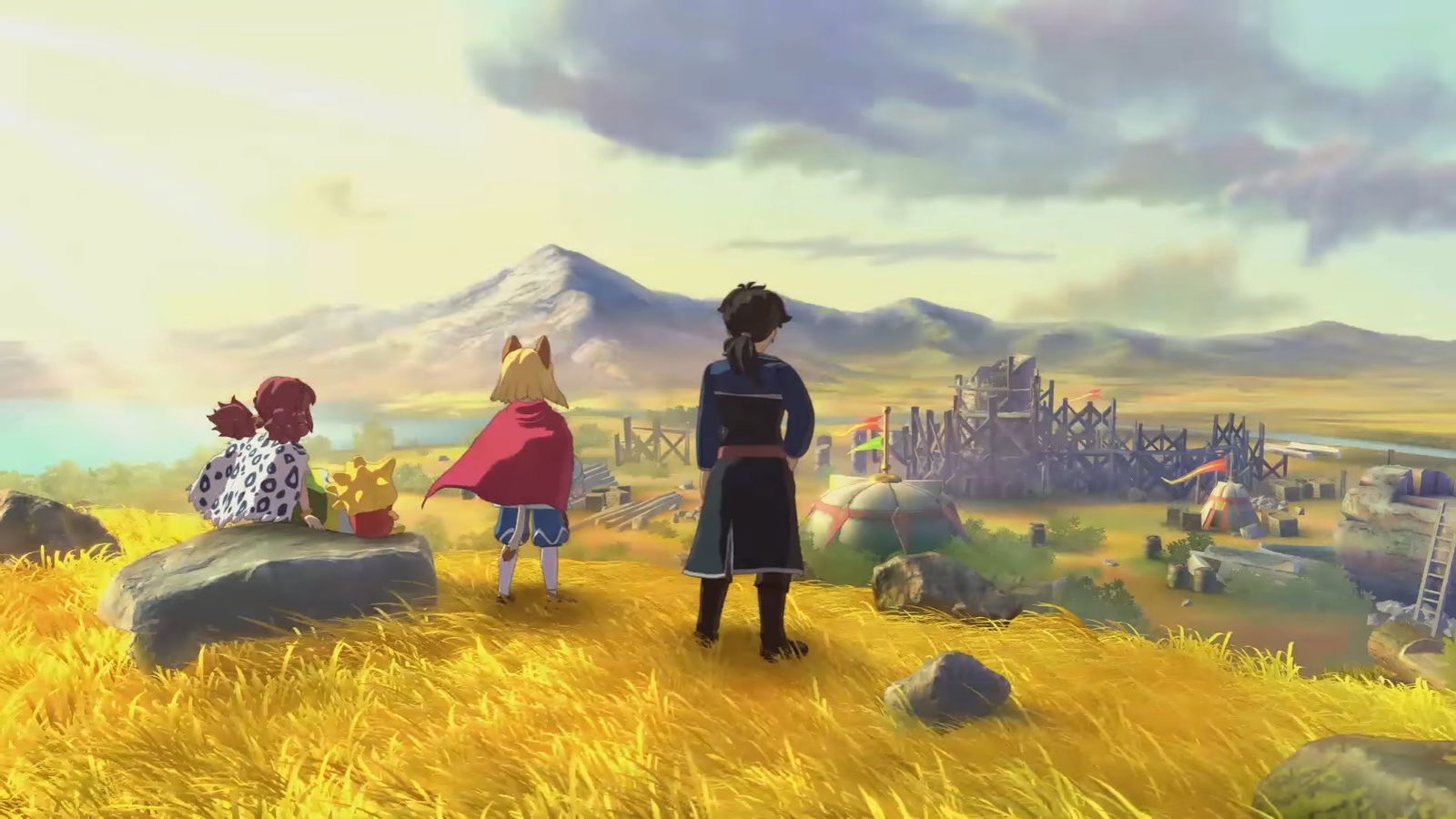 The world of Ni no Kuni II seems as breathtaking as the first. Though no longer an "official" Studio Ghibli collaboration, the team involved in the first game are largely involved in this one too. But we are again seeing this mix of amazing locations on a smaller scale, and larger "world map" style areas to move across too.
One thing we are promised in the game is a huge world full of things to do, and enemies to take on. Many of these locations will involve things to find, quests to take on and encounters to really test you. So far some gameplay has shown how some areas include much higher level enemies to take on… which you better not do until you and your party are higher levels!
Some of the main locations look amazing also. The Taiwan-inspired city of gambling "Goldpaw" looks amazing too. How can you not want to jump in to this ambitious work of art and explore?
4
Updated Real-Time Battle System
Level 5 have made a divisive choice in revamping the combat system. A lot of people really enjoyed the original game's "turn-based mixed with cool-downs" battle system. Myself included. But I do prefer action-based combat and Ni no Kuni II's approach looks set to bring boss monsters to life in ways that are difficult to do in the former game's largely-stationary system.
Level 5 highlight how much control you have in the official description of the battle system: Battle against fierce foes utilizing an exciting real-time battle system and command your Higgledies, little helper sprites born from natural phenomena such as fire and wind.
I, for one, am ready to embrace Level 5 returning to the style of gameplay they did best in the Dark Cloud and White Knight Chronicles games. Just with that additional experience and advancement of technology that'll likely allow it to shine in this; their latest project.
While a number of the game features are being mixed up including the aforementioned combat. But we are still getting a very rich JRPG experience in Ni no Kuni II. There are the traditional leveling system and managing your items.
Who doesn't love to play around with their inventory for hours and hours?!
Much of the fun in these kind of games is coming from getting out into that open world and getting the xp and finding those items. Growing your characters and taking on larger enemies is all going to be part of the action in this world.
The other side of the RPG mechanics is the taking on quests from NPCs around the world. Talking to the interesting characters of Ni no Kuni and their animal based likenesses. Other than this they are being quiet secretive so far.
Level 5 promise classic RPG features in their official description, which is: New and traditional RPG elements expertly crafted and designed featuring dozens of locations to explore, hundreds of creatures to battle and a wealth of quests and secrets to uncover throughout the sweeping journey.
2
Characters and Companions
As we were reflecting on The Wrath of the White Witch, we all had one thing to say about the original game: the characters really stand out. Oliver was a wonderful protagonist as was his companion Drippy and many others through the adventure. Here we are hoping for more of the same in this sequel with new characters to get involved with.
There has been some concern in some areas about the fact Studio Ghibli is not involved this time. However, as this Kotaku article states, Yoshiyuki Momose, key animator for Studio Ghibli's Spirited Away and Porco Rosso, returns with Ni no Kuni II's character designs. They're vibrant and varied but maintain that distinct style that is now Ni no Kuni's own.
Evan looks like a charming main character in the game. But we'll also be taking on the role of Roland who is a president and a lot older than he appears in the world of Ni no Kuni. Then there is Tani a Sky Pirate who was brought up as an orphan by the Sky Pirates leader.
There are sure to be many more to meet on your journey, and surely some references to the first game to find.
1
Stunning Visuals and Soundtrack
It's really easy to be thought of as being shallow when looking at a game for it's visuals. I mean, there are plenty of games out there that are great without looking as polished as other titles. But, when something looks as stunning as Ni no Kuni II does, you really can't ignore it.
Some of the scenes so far have looked more like a work of art than a game. Just a quick look at any of the promotional videos on this article shows off how stellar the animation is. From the various shades of ominous purple emanating from an encroaching dark knight, to the sweeping golden fields.
Given that the original game was stunning, this one must be an upgrade when you consider the hardware now. With the PS4 and PC behind this one it's going to potentially be even more spectacular.
We also love the soundtrack so far too. We used a lot of it on our video to go with this and had to stop a few times just to enjoy listening to it. The developers promised the game will be a combine: "LEVEL-5's mastery of the RPG genre is combined with music created by the renowned Joe Hisaishi and character designs by animation artist Yoshiyuki Momose."
Based on that and the details we've seen so far, we can't wait to be wowed by the visuals and music of Ni no Kuni II: Revenant Kingdom.
So, the big question… will you be getting Ni no Kuni 2?
Impressed? We certainly are, are are very much looking forward to experiencing these Ni no Kuni 2 PS4 and PC features for ourselves. But what do you think, and will you be getting it on day one? Let me know either way in the comments below.
Found this interesting? Don't forget to Share This Article with your fellow gamers, they might just like it too, buttons are below for you.